If you ask anyone who has ever visited Hungary, 99% of these people will naturally answer that they've been to Budapest. Budapest is, without question, a vszery nice city worth a visit and I have to acknowledge that it's the first place you should visit when passing through Hungary. But if you happen to spend more time here, or you come to live here for some time, you may feel like seeing also something else. For such cases, let me give you some inspiration 🙂
Visegrád and surroundings 
If you feel like going on a trip, you don't want to travel too far, but you still would like to see also something else than Budapest, Visegrád is the perfect destination for one day trip.
It's a castle in the Danube bend around 40km away from Budapest and it takes about one hour to get there. There are basically two, well, actually three ways to get to Visegrád and you can indeed combine them as you wish.

The usual way of traveling to Visegrád is to take a train from Budapest to the station called Nagymaros- Visegrád. You can get there both from the Keleti station by a EC train (going to Prague or Germany every two hours) and from the Nuygati station by a regular train, which, surprisingly, in fact takes even a bit less than a EC.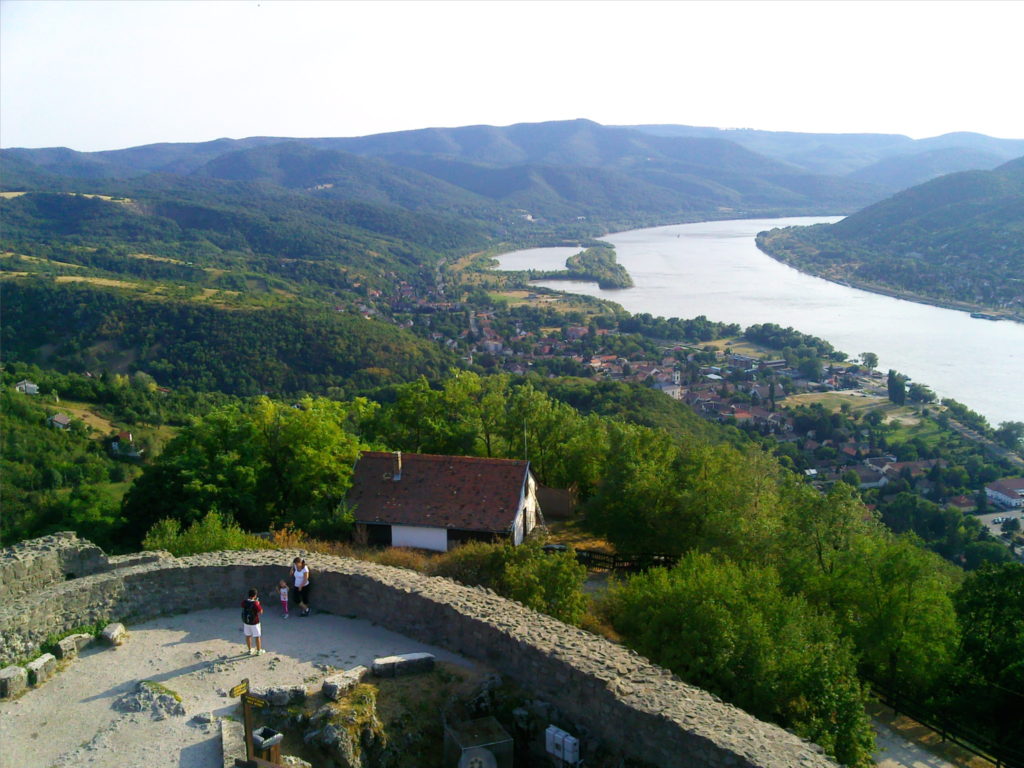 Since the castle is located on the opposite bank of the Danube, you need to cross the river. But don't worry, you won't have to swim as there is a ferry which can take you to the other side 😉 The only problem is that the ferry doesn't go too often but I remember it somehow matched with the trains. And from the "Buda" bank you walk up to the castle. Yes, it's a castle and castles are usually on hills (this one isn't an exception), so you will have to climb up a bit then. It's not too far so don't be lazy, it's worth moving your butt a bit 🙂 You will be given a gorgeous view over the Danube and surrounding hills.
You can go back to Budapest the same way as you came, or you have another option. If you don't wanna go back again to the other side of the river, wait for a ferry and a train afterwards, there is also a bus going to Budapest, which stops on the road below the castle. The bus ride is just a bit longer but most likely also cheaper. It brings you to the Ferenc Puskas stadium.
The bus goes through a town called Szentendre, another very often visited place near Budapest, so if you still have free time in the afternoon, you may also want to get off here and visit it still on the same day. Check the next article to know more about Szentendre.
I would like to mention one more way to reach Visegád. You can also do it on water – by boat. There are a few companies offering boat tours to Esztergom passing by Visegrád. Of course, the boat journey is much slower and quite expensive, though. Going first by train to Štúrovo in Slovakia, situated just at the border, visiting the Esztergom basilica and in the end taking a boat to Visegrád from there might be nevertheless an interesting option.
Szentendre
Szentendre is a smaller town situated just 20-25 km north of Budapest. It's pretty easy to get there and the town isn't big so you definitely don't need more than one day. Since Szentendre is not far from Budapest and there is a bicycle road connecting both places, which is by the way very flat all the way, it's also a popular destination for a bicycle trip. Moreover, in case you get too tired, you can always come back by a suburban train that allows to carry a bicycle as well.
If you don't feel like riding 25 km (or 50 km in case of both ways), the easiest way is to take a suburban train (HÉV) from Margit híd – budai hídfő.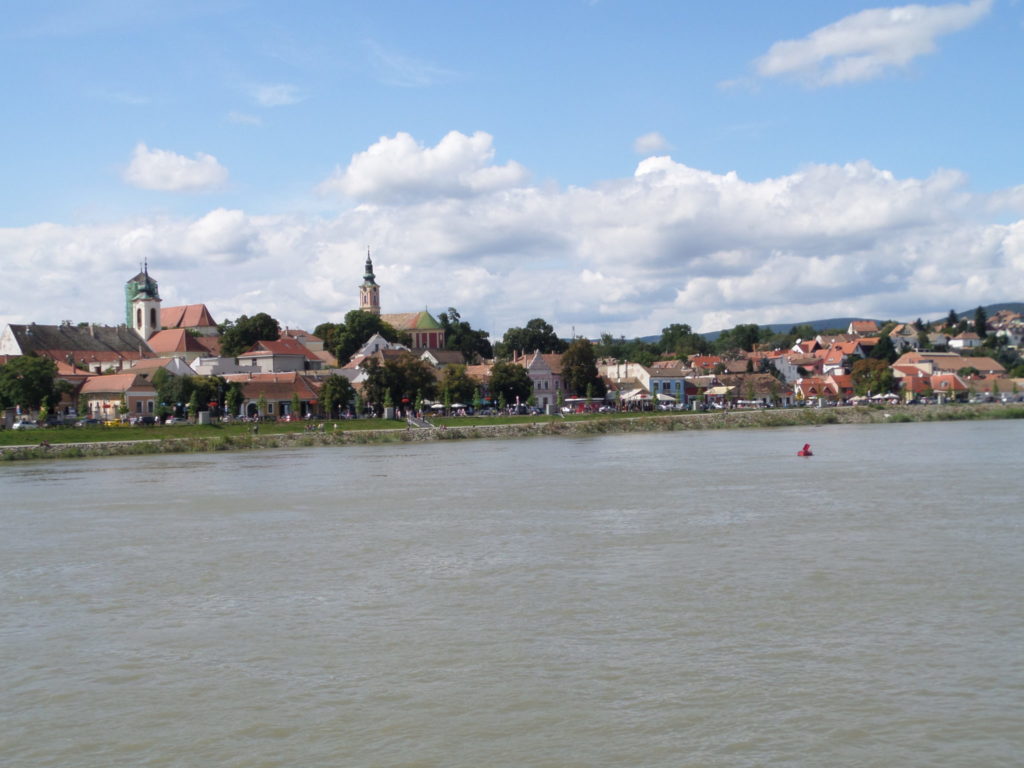 The suburban trains are smaller green trains that are a part of BKK – Budapest public transport, which, by the way, also means that within the Budapest territory the normal Budapest public transport tickets or passes are valid as well.
Thanks to the fact that the Danube flows also through Szentendre, you can also sail there from Budapest. The cruise is, naturally, slower and more expensive, but it may be a nice, most likely one-way (but you can do both ways), option, too. There are a few companies providing boat cruises, some of them sail all the way to Visegrád or Esztergom, but as far as I know at least of them has regular cruises to Szentendre, whereas the cruise takes 2 hours.
So what is there to see in Szentendre? It's a nice, small town with typical Hungarian colorful "village" houses located near the Danube. You can walk the streets, buy a souvenir from one of the stalls, relax on the bank of the Danube or at one of many restaurants or cafes. For the town as such, one afternoon is sufficient, however, what I absolutely recommend is to take a bus from the station and visit the Szentendre open air museum (called Skanzen). I really liked it and it can be something interesting and different for many of you. It's an outdoor museum in nature, an exposition of Hungarian folk culture and architecture. A few different villages spread among the Skanzen area represent traditions of different regions of Hungary. Even if you take it easy and relax a lot, you won't spend there more than just a couple of hours (I think I spent there about two hours).
So, reserve one day for Szentendre, visit Skanzen and afterwards enjoy a cozy atmosphere of the town.
Esztergom
Right on the border with Slovakia you can find a small town which is known as a pilgrimage place, and therefore famous for its basilica. Unless you have a car, you have to take the same EC train passing through Visegrád, but you continue to Štúrovo – the first stop in Slovakia. From the train station you can either walk or better take a bus to the center, visit the town and then walk over the bridge back to Hungary – to Esztergom.
Esztergom (Ostrihom) is just a small town that basically consists of the basilica and that's pretty much it. Since the basilica is situated a bit higher, you can get a nice view over the Danube bend, Štúrovo and surrounding hills. If you feel like, from Esztergom you have an opportunity to take a boat and sail to Visegrád. Just check the timetable in advance as it doesn't go very often.
Famous Balaton
Apart from Budapest, most likely the most famous, and perhaps also the most visited, place in Hungary is Balaton – the biggest lake in central Europe with the maximum length of 77 km. The whole lake is very popular in hot summer months not only by Hungarians, but also many foreigners. Around the lake you can find plenty of resort towns, camps or houses for rent.
Besides taking a dip, the lake is a perfect place for sailing boats so you can also sail around. Zamárdi is a town where the famous Balaton Sound electronic festival takes place, other popular destinations are usually Siofók, Balatonfüred or Keszthely. And yes, at the very west end of Balaton, probably the most touristy place Hevíz lake. I've never visited Hevíz and the small lake of the same name, but it's definitely one of the most tourist sought-after places as the lake is, in fact, a popular resort with a thermal spa and both cold and hot spring water. Hevíz lake sounds like a unique place, very tempting to spend there a relaxing weekend, which actually makes it to be one of the most expensive places of Hungary.
What I personally like the most and can absolutely recommend you is Tihány, a village on the homonymous peninsula. Tihány is very easy to find on a map since it is the big promontory extending into Balaton.
Tihány is a small, lovely village in the middle of a woody area and vineyards. You can get there by bus from Balatonfüred where you arrive by train from Budapest. Why it is especially worth visiting is for the beautiful view over half of Balaton and its crystal blue water, which really gives you an impression of being a sea, that you are given when you climb to the church.
Talking about a lake (a huge lake), I'm pretty sure you would mainly like to visit Balaton to take a dip in it rather than do fishing or ice-skating at long winter nights, so let me give you another personal tip.
The Tihány peninsula is also my favorite spot for bathing and here is why. All the popular places mentioned previously usually have paid beaches, and the areas nearby have fences separating the Balaton shore and water from the rest of the world. In Tihány, or let's say on the peninsula, there is a cool place with a nice environment and good access to water, which is, however, not obstructed by a stupid fence. It's right here, the last bus stop before the road turns up to the village 🙂
As you can see from the map, there is also a ferry line, so if you want to check the other coast, you can use it. It's just a couple of minutes and the ferry to Szántód goes quite often, whereas from Zamárdi there is an IC train back to Budapest.
Pécs
Pécs is the fifth biggest Hungarian city, located south of the counry, near the border with Croatia and actually also Serbia. I spent in Pécs one whole weekend, first of all because it's already a bit far from Budapest, thus it takes some time to get there, secondly because I also wanted to see something of the Pécs surroundings.
For the city itself, you don't need too much time, however, there are surely nice things to see and I found Pécs very nice. The city center is pretty small, only a couple of the main streets and squares are busier but other parts of Pécs are totally quiet, even at weekend nights. Beside the main square – Széchenyi tér with the St Bartholomew Church, Zsolnay Fountain (Zsolnay-kút), Hunyadi Statue (Hunyadi-szobor), the Holy Trinity Statue (Szentháromság-szobor) in the middle of the square and the Mosque of Pasha Qasim (Belvárosi plebánia – Dzsámi), you may want to see and visit the Pécs Cathedral (Pécsi Bazilika) with the Bishop's Castle (Püspökvár) and the Barbakan (Barbican) tower, Memi Pasha's Baths (Memi Pasa Fürdője) or the Pécs Synagogue (Pécsi zsinagóga).
Except for the historical center, it is worth visiting the nearby hills called Mecsek. You can take a bus to the neighboring village of Kővágószőlős and walk up to the Jakáb hegy with a lookout tower, and then walk around in the Mecsek hills. Taking a public transport bus (34, 35Y) up to the TV tower, hiking around there, or walking back to the city center is also a good option. In fact, this is what I did. I took a bus, simply got off near the tower, walked around, visited the tower with a 360° view over Pécs and the neighborhood hills, and then walked back down through a place called Tettye – a hill with a chapel, ruin and a cave.
Pécs is the capital of the county called Baranya, which is an area more hilly on its north side (with Mecsek), but a real plain in the south making good conditions for many agriculture activities, mainly producing wine. A village called Villány, located 40km south of Pécs, is very famous for its wine, especially the Rosé type – rose wine, and may then be a good stop during your trip. If you have enough time, on the way back to Pécs you can pass by the castle Siklós and for a couple of hours take a rest in the thermal baths in Harkány (you will meet a lot of Czechs there :-D).
If you want to experience something different, another place not too far from Pécs, which is very often recommended, is called Bikal. It's a medieval village that will bring you a few hundreds of years back in time to the age of knight wars and you get a unique experience by dressing up in a period costume and becoming, for instance, a medieval porter for a while. Unless you have a car, for Bikal you need to reserve a bit more time as it's not so fast to get there by bus from Pécs.
Eger 
When you ask a local, or someone who can be considered a local, Eger is another place you are recommended to visit apart from Budapest. It's a city located 140 km of Budapest in a wine region and very close to the Bükk National Park.
Eger is a great destination for a one day trip, if you come by train, from Budapest it will take you about 2 hours and you need to change once in Füzesabony. Alternatively, you can also take a direct bus.
I admit that the city is quite nice, certainly worth visiting, but on the other hand, to be honest, I didn't really get as impressed as I, based on the references I heard, probably should have. Anyway, you'll figure out what's there to see in the city, but I would like to give you one tip, as usual. What I can recommend you to visit is the "wine valley", which is a bit hidden and I ran into it more or less by chance, in fact. The area is called Szépasszony-völgy – a valley with plenty of cellars forming a cozy, relaxing place. You can visit cellars, be offered a small tour or wine tasting, or satisfy your stomach first with some food from one of the cellar restaurants, before an innocent wine tasting turns into….you know …:-)
Here comes my personal recommendation number 2. Take a Hungarian speaking person with you and don't be a foreign tourist! And here is the magic – if you speak Hungarian, you can ask people of "non-tourist" cellars and get some super cheap wine. I'm mainly talking about the cellars located out of the main Szépasszony-völgy square and also the ones along the road(s) connecting the valley with the city center. It's actually very easy to distinguish between a tourist and non-tourist cellar, so if you see one open, go in and ask for wine. It's definitely good to have an empty bottle with you, not always they have their own to fill them for you. Don't pay for an overpriced bottle in "fancy" cellar restaurants if you can have the best quality wine much cheaper! 🙂
The Bükk National Park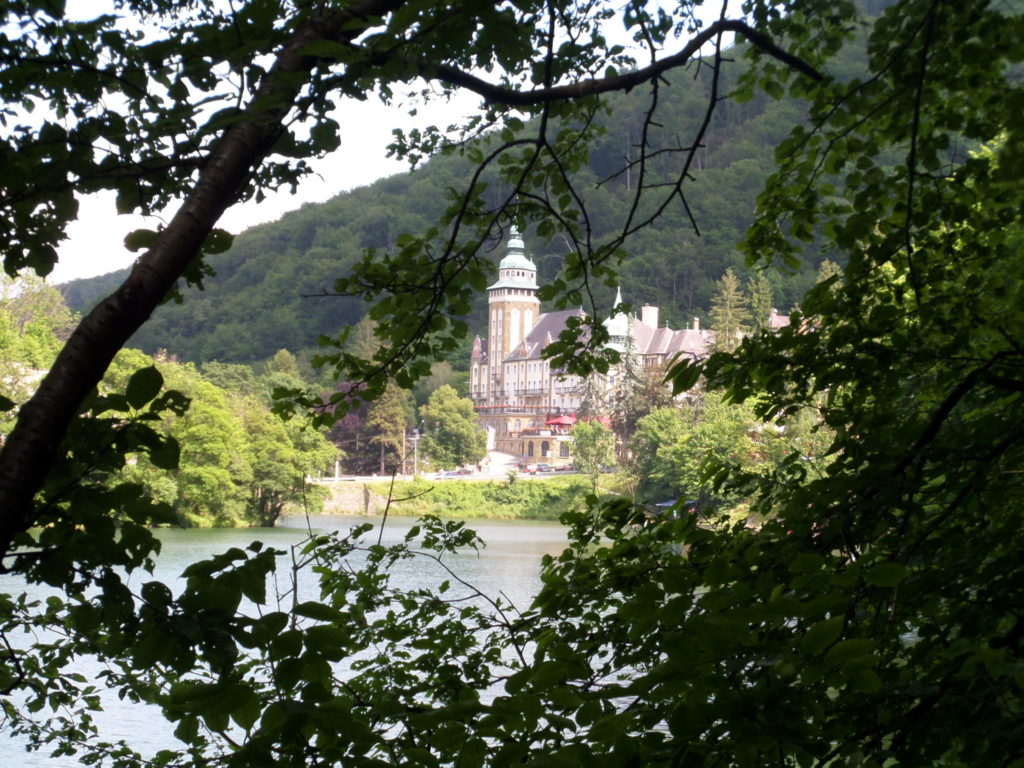 The Bükk National Park (Bükki Nemzeti Park) is actually a mountain range situated between Eger and another bigger city – Miskolc. There are many ways and trails you can try out and since I've been there twice, I can give you two hints. I've visited the Szalajka valley with a lake and a waterfall, to be found in the north-east of the mountains. There is a bus connection from Eger to Szilvásvárad from where you can start hiking.
I really liked the other place I've visited in this area. I went by train to Miskolc and took a bus to Lillafüred. The area around Lillafüred is a wonderful place with many nice things to see. There is a lake where a stately hotel, resembling more a castle (it's actually a former castle rebuilt into a hotel) and serving as a popular tourist resort, rises, you can visit caves (Szent István-barlang and Anna mésztufabarlang), walk up to a hill, see a waterfall, take one of the trails and make some hike, walk around the lake or back to Miskolc through the valley. There is also a narrow-gauge railway connecting Miskolc.
If you decide to come to Miskolc by train , in order not to get ripped off and travel cheaper, read my post first 😉
Mátra mountains 
As you probably got by now from the previous posts, yes, in Hungary you can also find some mountains. They are not really high, not very impressive to me, but even though the country is in general very flat, there are a few mountain ranges, too.
The reason I'm mentioning the Mátra is that in fact it's the highest mountain range of Hungary with the highest peak called Kékes – 1014 m a.s.l. I'll leave judging of the height up to you. For people from the Alps it's a pile of loam, for the Dutch it's Mt. Everest :-D. For the Czechs it's a hill.

I guess it will be good to know that from the bus station at Ferenc Puskás stadium there is a direct bus going basically all the way there up to the Kékes peak. The ride is about 2.5 hours. If you come by train, however, and go for some hike, as this is what mountains should be used for anyway, you can get sort of a special experience. From the city called Gyöngyös, where the regular electrified train terminates, there is a narrow-gauge railway with small "cabriolet" trains continuing to Mátrafüred. Once there, you chose your trail and walk up to the Kékes.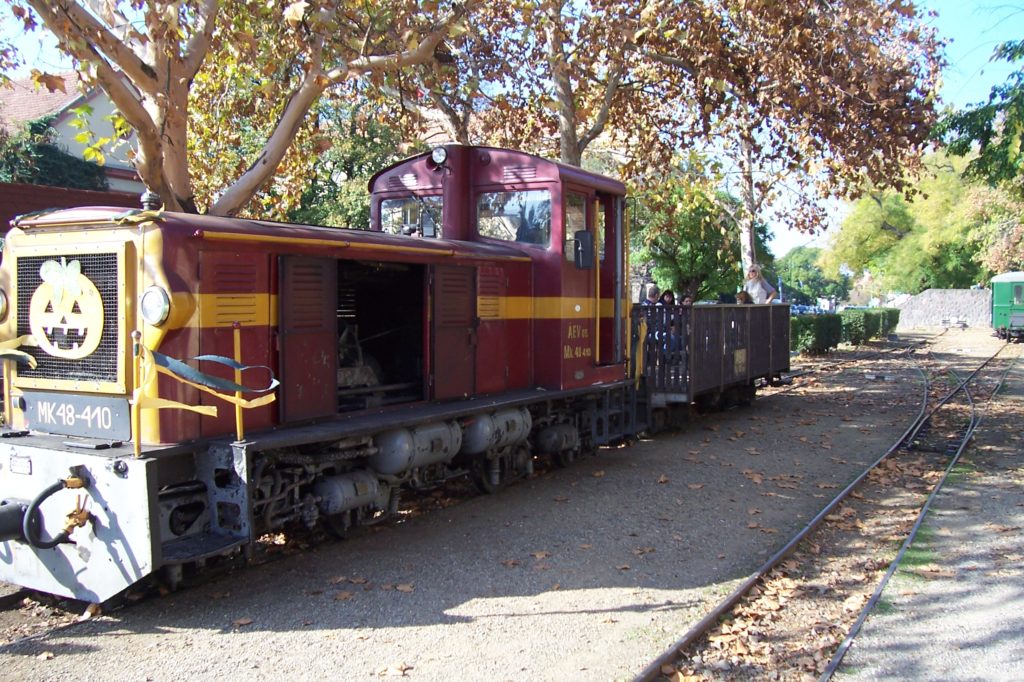 Talking about the Mátra, I've just remembered a little funny story, so let me share it with you 🙂 One day I went to the Mátra mountains with one of my friends. We bought tickets from a machine at the station and got on the train. We are sitting in a compartment, talking and criticizing Hungarian trains and the compartment itself for its bad quality and the price you have to pay for it. At some point a conductor comes. After checking the tickets he starts saying something. Of course, I don´t understand a freakin' word (I've been in Budapest only for a few weeks), but my friend speaks Hungarian so she obviously does. I'm just guessing to catch the point. And I'm thinking there is probably something wrong with the ticket as it's quite common here, however, eventually we are asked to leave the compartment, or pay an extra fee of 500 HUF because we are actually sitting in the 1st class department :-D. Whaaat?! This made me laugh so much, just a few minutes ago we talked about the bad quality of the trains, yet apparently we weren't even sitting in the ugliest part of the train…..well, welcome to Hungary!
Simply the Buda or Pillis hills
If you like nature, hills, and perhaps hiking, there is a lot of opportunities just nearby Budapest. The Buda hills cover a decent part of the Budapest area, which, among others, means that they are really close and it's easy to get into them. I talked about the Buda hills in the post "A Couple Of Tips For Budapest Visitors".
Just a little bit farther from Budapest, another mountain range – called Pillis – begins. It spans basically from Budapest itself and sort of corresponds to the Danube all the way along up to the very north to the border with Slovakia. It's another very nice area with plenty of panoramic views, picturesque valleys, caves, or other natural phenomenons. And there are indeed many trails you can choose from. The most popular hiking destinations in the Pillis are Dobogókő, Városkapu, or also Visegrád.
There is more to see
Certainly there are more places worth a visit and exploration. I lived in Budapest for two and a half years, yet I didn't manage to visit all I wanted, or possibly may have wanted to see. I hope at least some of the tips I gave you have inspired you. If you run out of ideas and still want to explore other places, here is a few more hints.
Anytime you feel like, you can just get on the train and go to Tata and Tatabánya. Honestly, Tatabánya is not interesting at all and it's actually a very ugly industrial city (I'm sorry), but there are some hills – the Gerecse – where you can take a hike. Perhaps you may know the famous Turul monument – the national symbol of Hungary – towering just above the city. Győr is a city two hours by train away from Budapest popular not only for its baths. For wine lovers, Tokaj, Etyek, the already mentioned Eger and Villány wine regions, and many places around Balaton with the most famous destinations Balatonfelvidék, Balatonboglár or Badacsony, are "must-be" places. Debrecen and Szeged are 2nd and 3rd largest Hungarian cities, respectively, whereas the latter is at the same time the biggest (after Budapest) Hungarian student city. If you are more into natural beauties, you may not want to miss on the plainest plain in Europe – Hortobágy National park, the Aggtelek National Park, or the Duna-Ipoly Nemzeti Park.