---
It's exactly seven days since I left home, my original, and for the time being temporary, home. It's been one week since I set out on an adventurous, low budget journey to Romania. It's been a tiring week, but I don't regret. After 7 days of wandering around I've finally found some peace and quiet, and with a bit freer free also time to share my story with you.
Wandering Around Romania looking for a host
Day 1: Wednesday, 2nd Aug – Third time in Romania
Lesson learnt: When traveling in Cluj, it's worth buying a ticket worth 50 cents.
Experience: Meeting ticket controllers. Twice on the same bus! 
I'm leaving Bratislava, one of the tiniest airports I've ever flown to/from, heading to Cluj-Napoca, the second biggest city of Romania. Yeah, people usually know Bucharest and that's pretty much it, so Cluj-Napoca is the second biggest city after Bucharest. It's a nice city which is in recent years gaining more and more popularity among expats and foreigners as there is, thanks to big international companies that are building their centers here, a rising demand for English speakers, whereas the costs of living in Cluj are pretty low. Cluj has recently become well-known also for its Untold festival. The city is getting the cosmopolitan, international spirit, pretty much like Budapest. But I'm going to write more about Cluj later.
I've just landed at the Cluj-Napoca airport, the flight takes only about 50 minutes so you are back on the ground before you even realize you've taken off. It's 9 o'clock…ah, no it's 10 o'clock of the local time as Romania lies already in the GMT+03 time zone and it's already over 30°C. The sun is baking. It's gonna be a very sweaty day….
The International Cluj-Napoca airport is located some 9km east of the city itself, so you can get to the center quite quickly. I could of course take a taxi, but am I really a tourist? Nooo, rejecting the taxi drivers' "discounted" offers for 30 Lei and skipping the idea of going by bus without a ticket, and playing a fool tourist if needed, I opt for buying a ticket (it's Romania man, not Norway, it can't be that expensive) for 4 Lei and get on the bus which is going to bring me to the main train station. On the way from the airport to the station I run into ticket controllers. Hmm…it was definitely a wise decision to get a ticket, but believe or not, they meet them (different ones) twice on the same bus! No kidding. It never happened to me before, but apparently they do have ticket controllers here.
I visited Cluj two years ago so I've seen pretty much everything, except for the open air museum, since back then it was closed. And that's actually my plan for today. I'm going to sleep at a couchsurfer's place (www.couchsurfing.com,if you don't know what it is, it's a great way to save money for accommodation, and to get to know new people), but I have all day to spend before she comes from work. I don't feel like walking in the concrete jungle in this crazy heat, the forecast shows 36°C, no clouds.
So I'm leaving my huge backpack at the station till tomorrow, and taking a walk towards the museum (Ethnographic Museum of Transylvania). After the first 100 meters I realize that it really wasn't the best idea to walk. My T-shirt could be wringed already…
Well, I don't know about a better plan anyway so I continue walking to the museum, hoping to find some shade there. I've reached the museum and I'm taking the first shade I see to finally eat my very late breakfast, thinking how I'm going to enjoy it as at 2 pm it's over 60°C in the sun and hardly any shade anywhere…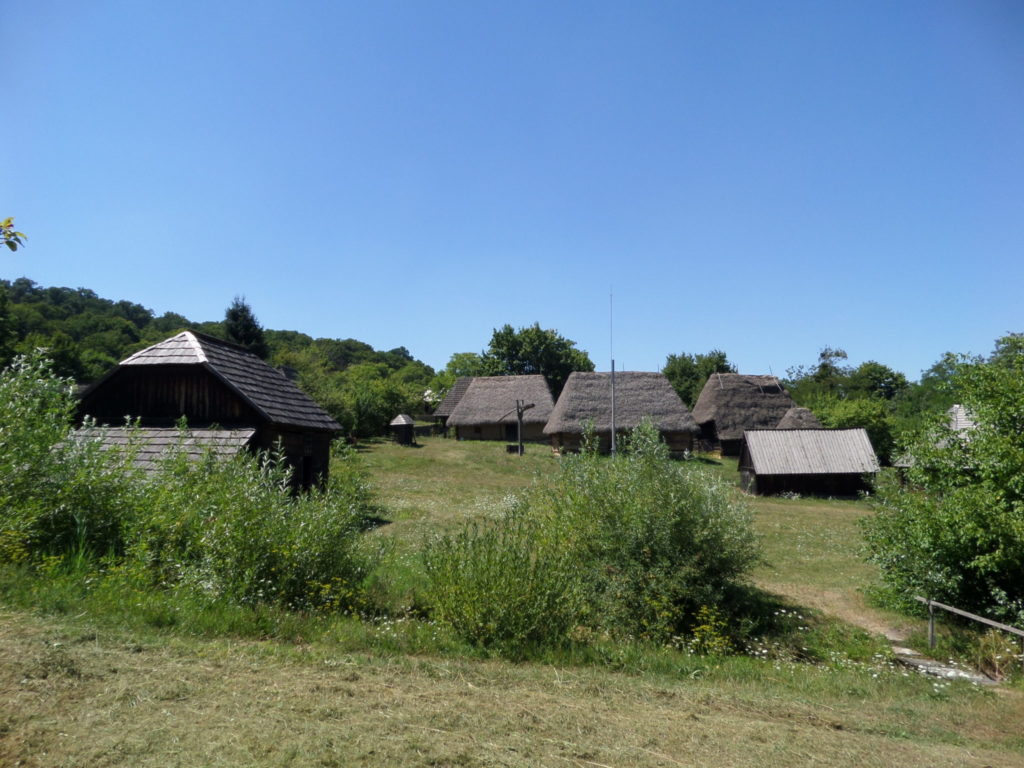 Naturally, after 1 hour walking around the houses of the museum, I feel like Romanian fried chicken, and since I don't know about any other better place near water where I could just roll myself out in the shade and chill, I'm going to the city park. Coming closer to the relaxation place I'm wishing for, passing by the Cluj Arena, I hear lots of noise and see many people around. The Untold festival, of course! It begins tomorrow, I forgot about it….Wanting to go along the arena to get to the city park I'm told the whole park is closed for the festival and I'm sent to go around. Great, another additional kilometer on the hot asphalt roads. I feel exhausted, it's just too hot even for me. I don't get any refreshment even in the shade. I give up, passing by a fruit and vegetable market I take a bus to a shopping mall, the only place where I can cool down for a while, and wait for the couchsurfer there.
Day 2: Thursday, 3rd Aug – Hiding From the Tropical Heat In A Salt Mine
Experience: There is no better place in 37°C than under the ground
Lesson learnt: If you go to a mine or a cave, take something warm with you
After yesterday's frying experience, I've decided to go for a colder option. The forecast shows 37°C and no clouds. There is just no better programme for today than hiding in the underground. I'm going to the salt mine in Turda – a town around 30km far from Cluj. A twenty minutes walk from the bus stop to the mine with two backpacks in almost 60°C makes me feel like kebap again, and I'm sooo looking forward to be inside. I don't wish and I'm not thinking about anything else right now. People carrying jackets into the mine, hmm….whatever I will be happy to be cold for a while, it won't be that bad. I'm opening the entrance door enjoying the first refreshing breeze after a couple of days.
Natural salt is known for its beneficial influence on the human health, and places like salt mines or salt caves are sought-after not only by people with respiratory diseases. Within one entry (30 Lei) you can stay in the mine even the whole day. I spent in there around 4 hours, explored the mine, relaxed, ate my lunch and breathed fresh salty air. If you come with kids, you will probably spend there much more, because the entire mine area is rather a relaxation center than an excursion as such. In its deepest accessible point, you can rent a bowling lane, play table tennis, get a ride on a ferris wheel or rent a small boat and sail around the flooded mine. If you plan so, I can totally recommend you to take something warmer with you, even if it's 37°C outside. I have to admit that after two hours I had to go back up for a while to "warm up" because I was really cold 😀 I'm going to write more about the Turda salt mine later.
I'm leaving the mine in the afternoon, walking down the street to the center, carrying again my two backpacks, and after just a few minutes baking again. I'm going to get to Sibiu now, where I'm most likely going to spend a few upcoming days. I can get to Sibiu from Turda by bus in about 2,5 hours, but as this is not my first time here, I also know that it's usually much faster to get anywhere by car. People do it here a lot. I mean, really a lot.
It's really too hot, though. I've walked in the sun too much already, if I stay with the antibiotics in the direct sun just a bit longer, I'm definitely gonna melt. Come on Jirka, be wise, as always. You are just a few meters away from the bus station, and there is a bus to Sibiu leaving in 15 minutes. The traffic is pretty big here, you try for ten minutes and if it doesn't work out, you can always take the bus. You can still save some money, but mainly it would be much faster.
I walk a bit further behind the crossroads to find a better spot, unfortunately I can find no shade at all. Gosh, I'm really going to bake here. Whatever, life is never perfect…let's give it 5 minutes. I can handle 5 minutes in the sun. Cars passing by but nothing's happening. Four minutes gone. I'm gonna take the bus…. It's too hot to stay here….Honk honk, I hear somebody honking behind me. I'm slowly turning around, holding the paper with a Sibiu sign. I see the driver waving at me to come…..are you going to Sibiu? Yes. Awesome! I'm happy. There is one more guy in the car getting a lift, so I don't even have to talk much during the ride 😀 We're brought to the Sibiu airport from where I can take a bus to the center, nevertheless the co-passenger is so nice that his dad is taking me with them to the center.
I've made it. I'm just going to sit down in the park and wait for my "hosts" to come back home. I have a place to stay for tonight, in a dormitory. Yeah, you know, when you know friends of friends 🙂 But that's all I know for now. From tomorrow on, I don't know where I will be staying. I don't have an exact plan. I don't have another place to sleep. I don't know if I should stay here in Sibiu, perhaps go back to Cluj, or just continue to Brasov as planned at first. I still haven't found a host….Well, let's see tomorrow…
I'm on my way to dormitory, carrying my two backpacks. I hear a strange sound and all of a sudden my big backpack is sliding down my left shoulder. The fabric on the right side of my backpack ripped out so now the whole backpack is kept only on one shoulder. Damn it, how am I going to carry it now?! I don't know how I'm going to fix this. Eh, it's been another tiring day…
Day 3: Friday, 4th Aug – A Sibiu Homeless For A Few Hours
Lesson learnt: If your backpack gets screwed up in Sibiu, just buy a new one
Alright, it's 7 o'clock, I need to get out of the dormitory. Sleeping at dormitories is never best, fortunately I was so tired that I slept quite well. I can't stay here for another night, though, as the people who allowed me to stay here overnight are leaving for the weekend. Right now I'm a homeless with one small and one big, ripped backpack. I have no place to sleep and I don't know if I should stay here or what. I still didn't get a response from any volunteering host. I have to go to the center and figure it out. I also have to find someone to fix the backpack. I don't know what to do about it.
I'm sitting in a park, in front of a place called SuperMamma, for me always the most important checkpoint in Sibiu. Not because of the cheap shitty food they provide throughout the city, but because of the wifi network with a password, which is very hard to guess (guess what is it?). I'm googling…bags, baggage repairment….bagaj reparare…shoe maker…I don't know, anything that could work. I see there is a shoe maker nearby, let's give it a try and hope they can help. Timidly knocking on the door and entering the store, I ask the lady if they could fix my backpack. No, we don't repair bags here, sorry. Hmm, what can I do…I will wait for the Tourist Info to open and ask there. They should know.
I'm asking at the tourist info: Do you know where I could get my backpack fixed? Yes, the women takes a map and makes three circles, not that far from the center. These are the places where they will fix it for you. Great, thanks! I leave the tourist info and go to look for the places. I'm going to give it a try to the closest one, naturally. You know, you can walk 500 m, 1 km, but with 10kg on one shoulder, and with a few more in the other bag in front, in over 50°C in the sun, every 10 m is a challenge. I'm looking for the place she marked on the map. I don't see anything. I check 100m back, 100m farther, nothing. I check the whole street on both sides. No. There is only a Samsonite store, but they don't repair any bags there, do they? Well, they don't indeed. They only have an official service in Bucharest, I'm told by the shop assistant.
I continue crawling for another kilometer to another potential bags repairment service place. I look around and see only a sport store, that's the only place around to be taken into consideration. Asking the guy at the shop, I'm rejected again. I ask if he knows about some other place around, and with very basic English he tries to explain where I should go. I have no idea what he meant, but let's give it a try. I'm crawling for another kilometer,looking for the place he meant. A crossroads, straight, police on the right, turn left, down….there is no down, man. There is no shop taht would just slightly resemble a place where I could get my bag fixed. Oh, there is something like a store with textile and stuff, it's certainly not what he meant but let's try. English? No? Bagaj…reparare? No? No. With my hands (and legs) I'm trying to ask if they no about a place near by…..Magazin Dumbrava, shops….I see, the shopping center over there, I should try there. Mersi.
I'm crawling back to the magazin. There are many many shoe shops, clothes shops, and any other shops. Nobody speaks English around. I'm lost..no bagage reparare in the city or what?? After a while of searching in the three floor shopping center, an English speaking lady is found. She explains there is nobody there to do that and I'm sent back to the center. Oh damn it. I give up. I can no longer carry this heavy shit, wandering from one place to another.
I'm slowly melting. I'm crawling back the tourist info. There is a different women, explaining here again I decide to ask her as well. She doesn't know anything, thus I give up for good, asking if I could leave my backpack here till the evening. I leave my backpack there and go to try my luck to the last place she mentioned. This time already lighter by 10 kilos. I see another sport shop, but guess what…? The same answer. I give up and head to the open-air musem as planned.
I arrive at the museum, the sun is already baking again. But rather than being annoyed by the screwed up backpack, there is one more thing that annoys me more. I don't have a place to sleep for tonight. Thus, the first thing I look for at the museum is a wifi connection. Yeah, the thing I wanted to avoid. But what can I do…I didn't get any couchsurfer's response, most of the places are booked already. I see there is a new listing, a small studio in the very center of the city. Yeah, whatever, let's do it. I had the last three nights for free, I basically traveled for free, it will be great to have a place just for myself for once and enjoy it. My mind is finally free and I can enjoy fully the 37°C heat at the Sibiu Ethnographic Museum.
After a two hours of walking in this heat I'm dead. I run into a bench in a shade by a lake, which really seems like a nice place to have a rest. Yes, it definitely is. I fall asleep for one hour. Feeling much better, I'm going to explore the rest of the museum.
I leave the museum and go straight to the place I've just booked a few hours ago. I can't wait to be there to have a bit of peace and quiet for a while.
I finally relax a bit and go to meet (after five years) my "old" Erasmus friend.
Day 4: Saturday, 5th Aug – Spontaneous escape to Alba Iulia
Lesson learnt: Spontaneous actions are always the best
Experience: there is no better tool of a modern traveler than Google Translator
It was a very quiet night. So quiet that it kept waking me up 😀 I have to use the kitchen I have available, there is a cooker so I'm going to prepare my breakfast from the eggs I bought. Wait. I have eggs, there is a working cooker, but what am I going to prepare it on?? There are no tools. Jeez…what now…
Well, there is still this neighbor….I'm glad I have a wi-fi and Google Translator 😀 I'm translating: "Could I please borrow your pan? I will return it by 10." Mersi. I go upstairs and knock on the door. The old lady comes, smiling like never before, probably so happy that a handsome Czech guy is standing in front of her door. Scuze szucze, I show her the translation on my phone. She brings her glasses, reads, and after that exults…Da da! Great! I've got a pan now and I'm also given some ulei and a lingură. Breakfast saved!
This place is really cool. I like it. Small, a bit old, but I find it very cosy. And so cold and silent. And just about three minutes from the main square. And there is also a nice neighbor 🙂 And a funny host, who doesn't speak English a word, but has his hands and legs to explain everything needed.
After a few days of surfing the couches and dormitory beds, It was so great to have a cool place just for myself. Worth the price, for once. Too bad it's booked for tonight so I can't stay again. So again, I'm on the street, crawling back to the center to find a wi-fi.
I finally got and answer from a host. He lives in a village not far from Sibiu. So I finally know I'm going to stay here till Monday and can find some accommodation for two more days. I've contacted like 5 couchsurfers but no answer whatsoever….I see all the cheap places through Airbnb are booked. Damn it! I see all the place for a reasonable price on Booking.com are booked! What is going on? Oh, there is this festival in Sibiu this weekend, that's why everything is full. But what am I going to now? I'm a low budget traveler, you know. I don't want to and I'm not going to pay 50 € for a bed in a hostel. WTH…I don't have a sleeping bag with me either. What should I do? I book a cheap place at a hostel for tomorrow, but what do I do tonight? I go to ask to the hostel if they by any chance have one more place for tonight. No, we are just a small hostel. Sorry. Everything is booked because of the festival. Sorry.
Ah, I keep checking my email again and again. No answer. I check AirBnB, Booking.com again. Nothing left. I scroll further and suddenly see a last minute discounted offer, not in Sibiu, though. It's 60km away from Sibiu, in Alba Iulia. Well, I wanted to visit this place anyway, perhaps I can do it today then. What other options do I have? Yep, booked. I'm going to Alba Iulia today. A very spontaneous decision. It goes already above my budget, but…never mind, I will save the money somewhere else. It's still the cheapest option at the moment.
I'm walking a bit out of the center to find a good spot for hitch-hiking. There is a bus, but it leaves in like two hours. You know, Romania. Yeah, I'm sure I've found it as I see two other competitors trying to stop a car there, too. It's super super hot again. It's 2 o'clock and the heat is starting to peak. And no shade around, of course. It's so damn hot, standing in this sun is unbearable. I take a break under the roof of McDonald's. Alright, there are too many people hitch-hiking, this is guy is going the same direction, let'make some cooperation with him. "Hey, I see you are going the same direction, what about we change every 5 minutes so we don't grill both in the sun. Okay, I will stay now, you can hide in the shade. Okay." I go back under the roof of the petrol station/McDonald's and keep holding my tag with Sebes." Someone filling his car is talking to me. Are you going to Sebes? Yes, get in. Great! Actually I'm going to Alba Iulia, but that's already pretty close. And there is one more guy going the same direction, do you want to take him too. Yeah, I don't mind, it's the same for me. You see, sometimes  being first doesn't mean finishing first. Sometimes the best doesn't mean the one that works. The best is deceiving.
We get a lift to an intersection of the roads connecting Sebes and Alba Iulia, and the highway to Deva, where the co-hitchhiker is heading. We talk a bit. I briefly tell him my story and he briefly answers. If you want to find the real peace and quiet, I'm a member of a Vipassana center community near Deva, where I'm just heading. You can come and take a 10 days course. Here is the website, check and you will see. Good luck! Thinking about the place as another possible challenge of the Romanian adventure and of my life,I quickly get another lift to Alba Iulia.
I arrive at the place I've booked. It's….oh my god, it's beautiful! Okay, it feels sort of weird because it's really made for a couple in love and it's way too much romantic to me, but whatever, it's still awesome! And a bit luxurious for a low budget traveler. At least I know where to come in two 😀
Anyway, having taken a shower and a short rest, I set off for the city center. It doesn't feel like it's any colder, but there is at least some shade now. The city of Alba Iulia is in fact one big citadel. It's really really nice. And it takes a while to walk around the whole citadel. Again, I'm going to tell you more about the city as well as share more photos later on. I enjoy the evening view of the surrounding hills accompanied by the light of a full moon, and go to enjoy the night in the awesome apartment, too.
Day 5 : Sunday 6th Aug – Reaching unreachable Râpa Roșie
Lesson learnt: There is no unreachable
I enjoyed my private apartment for a very reasonable price 😀 and I'm heading back to Sibiu for one more, hopefully last night. I try to leave as early as possible before it gets too hot again,  because on the way back to Sibiu, I want to pass by a place called Râpa Roșie. I meant to do it already yesterday, but to get there you most likely need to take a 4km walk through fields with not really much shade. Naturally, I didn't want to it in 60°C in the sun, so I left it for some other time. I'm gonna take a walk through the Alba Iulia fortress again and take a bus to Sebeș.
I've been trying to figure out how to get to this place. It's one of those places which are worth a visit, but not easy to reach, sometimes not even easy to find. There many places throughout Romania which you don't even know about. Râpa Roșie – The Red Rock – is an interesting red rocky formation which can be clearly seen from the highway connecting Sebeș and Sibiu. It is unclear, however, how to possibly get there. There is no bus, no road from the highway, and there is actually no official way for cars, either. There may be some paths leading from the surrounding villages, but I guess the safest way is just to go to Sebeș and take a road towards the rocks. From the map it seems like there should be a path or something and it shows around 4km. Let's try, perhaps I can stop someone. I take the road leading out of the city and a few meters behind the station I come to an intersection. Surprisingly, there is a sign showing Râpa Roșie straight ahead, but I decide to follow the map and turn left on sort of a sandy field road. The sun starts to bake again, I don't want to walk in this through the fields. But at the moment, there is no other option. I wonder if I will get there this way. Nobody around, just corn fields. I see the red rocks ahead, I'm getting closer, but there is also the highway. Maybe that's why on my map this road doesn't really continue farther. Man, if the road ends over there and I have to go all the way around, I will go crazy.
I get to the highway. The road continues left, right, but no straight, of course. There is no straight. Just the highway, and you can't just cross that. Pff,…well you can't go over it, but you still may go under it. I see that just a few meters farther, under the highway, there is sort of a tunnel for water. If water can cross to the other side, I have to as well 😀 Let's check. Hurrah, welcome to the other side.
Now I believe I will eventually get there. I even see already some cars coming back. So that's probably the "official" road. It would be great to stop someone. Yeah, unfortunately no cars going up right now, only back down. I'm walking through the fields, it's damn hot again, but no cars. God, if I with my lovely antibiotics survive all these super hot days in the sun, I will survive everything. Anyway, since at the time I'm walking up to Râpa Roșie there is no car passing, I have to climb all the way there. But I made it. I've survived. I climb a bit up and take a couple of desired pictures.
There are some other visitors by car. I have to stop someone on the way back. Waking another 4km back again through the fields would be just too much. I take sort of a shortcut through an old dried out creek so I don't have to climb back to the parking and can have some shade for a while. It feels very deserted, it's like walking somewhere in Australia. I hope I will stop someone. No, hard to believe, but there isn't anyone going back down at that time, either. So the tunnel again….corn fields… Well, it was a very hot journey again, but I'm back in Sebeș. Now I'm going to hitch-hike back to Sibiu. There is probably no bus now anyway.
I manage to stop a car. I didn't take long. It looks like an old head of family, happily coming back to his wife. He doesn't speak English so it's a half an hour of silence. And perhaps not only because of the language barrier. When I see how he is driving, I just pray to be there already. I take my words back. Czechs are not the worst drivers in Europe. It's definitely Romanians. But this guy was really crazy….I mean going 100 km/h through villages, passing cars by crossing double lines in curves or so…
Feeling super tired after another hot day, I buy some food and go to the hostel.
Day 6: Monday, 7th Aug – Escaping a huge storm, first night at the volunteering host's place
Sleeping on a bunk bed in a dormitory with other travelers is never the best experience, but since I was tired as hell, I slept quite well. In the early morning, I was just awaken by four kittens who jumped in through the window hiding from the rain, and making an amusement park out of my body.
It's my last day in Sibiu, in the evening I'm leaving for my first volunteering experience to Hosman, a village situaded 25km far from here. The air is finally better today, thanks to the storm that came in the morning, and since I've seen pretty much everything of the city, I could possible have a little hike, or just a walk in the surroundings. In Romania, there are many nice places everywhere, but the problem always stays the same – not easy to get there without a car, with none or limited public transportation.
So I decide to visit Cisnădie, basically just another random town with another fortified church, and to make it more interesting, I'm going to take a 4 km long walk to the next random village with another fortified church, this time situated on a hill. The thing is that you can get to Cisnădie by bus relatively easily, but there is no connection from Cisnădioara back to Sibiu, so you either have to walk back to Cisnădie, or take an 8 km walk back to Sibiu. Or you just stop someone, as usual here 😀 You know me right, I never go back the same way if I don't have to, so I decide for the second option and see what happens.
I see on the map there is like a little road going through some greenery so I don't have to walk on the main road. Well, in reality it's not a road at all, rather a small path going through fields. I pass by the last houses of Cisnădie, continue through empty fields, I greet cows and bulls around, which stare at me like they have never seen a random Czech guy walking in the middle of nowhere, and after some 45 minutes of a pretty boring walk I finally arrive in Cisnădioara.
I climb up to the fortified church and have my lunch. The view from there is not that stunning, today it's very cloudy and there are storms all around. I just hope they will miss me, because I have 8 km ahead.
I leave the place and set off for my trip back. I follow the road, hoping to stop a car. The driver has to stop every few minutes as there are moments when you don't see absolutely anything. The city looks like from a catastrophic American movie, the public lights are turned on, the streets turned into real rivers. I don't remember if I've ever seen such a storm before and I also don't remember last time I felt so lucky. Imagining myself stuck in the middle of this storm, I breath out deeply.
I don't even want to get out of the car. I'm gonna get soaked within seconds. The guy stops in front of a bus stop, near a shopping center. I open the door….noo, this is not gonna work out. I can't even open the door properly, it's a boisterous river. I quickly close the door again and the guy brings me in front of the entrance to Kaufland. Thanks God.
The storm is gone for now. I just do some shopping and go to the bus station to wait for my bus to Hosman.
Day 7: Tuesday, 8th Aug – My first volunteering experience
Lesson learnt: I know why they say a dog is man's best friend
Experience: Real Romania gipsy village – a couple of half-destroyed houses, fortified church and big nothing
Even though I travel much and I'm used to changing places very often, I often struggle with falling asleep the first night in a new place. I was quite wondering how it would be in a new place here, you know, it's not even a hostel or anything, I'm going to volunteer at a farm so I'm gonna get a bed in a cabin, full of flies and mosquitos, ants and spiders walking on the wall. But I was just so tired after all these days of traveling that I slept like a baby. Since the village is quite far from a city and surrounded by hills, the cabin also gets cooler at night, which is, after a week of tropical nights, a great change.
I'm told to get used to the place and relax, since the host is going to be gone for today. No work for me today, just finally enjoying the peace and quiet that I've been looking for for so long. I don't plan to do anything special, no crazy hikes or trips. I'm just going to explore the village. Let's see of they even have a shop here or something.
Since there were quite a few storms yesterday, the air is today finally much better, and I also hope that it has cleared the sky and I will finally be given the beautiful view of the Fagaras mountains, which you can see on the typical photos of Hosman.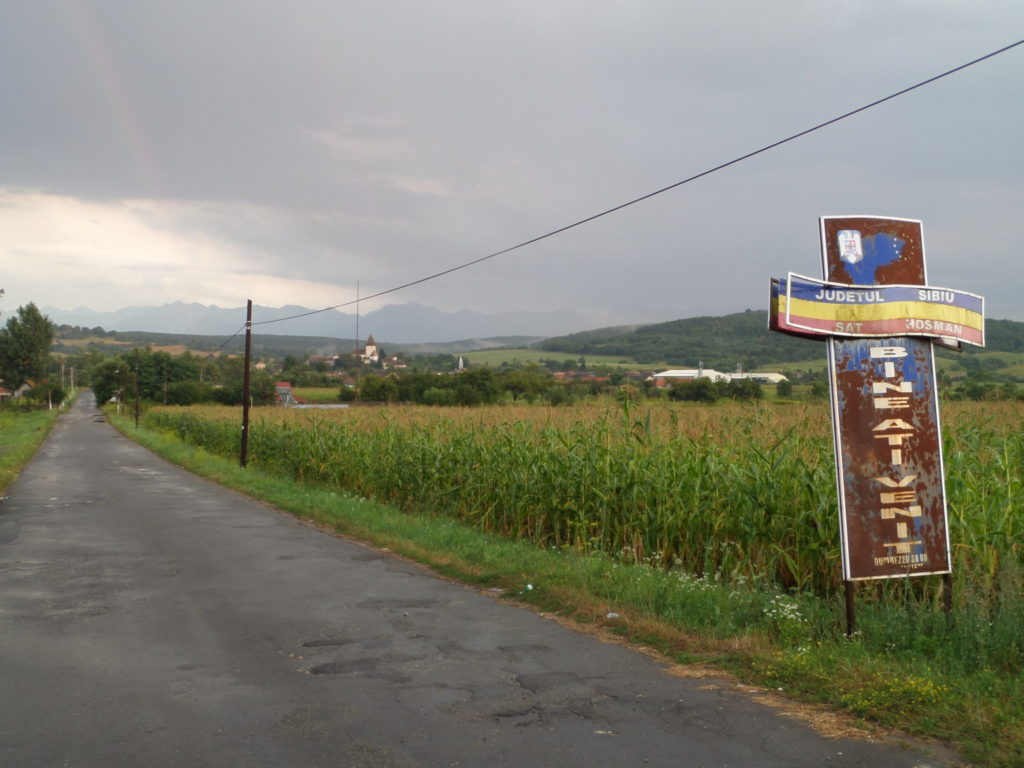 My enthusiasm and excitement is gone in a minute. Crossing over a bridge at the beginning of the village, I find out that the visibility today is even worse and I can't even see what I was able to see yesterday when I arrived. There are suddenly no mountains in the background at all. Hmm…disappointing…but what can you do….I still have one week ahead so hopefully I will see them one day…
The village is really pretty small, indeed, but I run into a shop. That's definitely the only shop here. I continue to see a bit more of the village. Walking the neglected streets, I can't say I feel very comfortable here. There are just gipsy kids and whole families staring and shouting something in Romanian at a random tourist with a camera. Should I keep going a bit further, or better not? I would never do that in Ostrava, but thinking that there are also a few Germans living among them, I can't be that exotic to them (can I?), I go explore the village a bit more 😀 Being the center of attention again, two gipsy guys approach me. Hey hey…bla bla bla…yeah, English. No, they don't speak English, of course. I don't know what they are trying to say, but since the gestures resemble too much "give me some money to buy some food" or something like that, I decline their invitation to sit down next to them and turn back to see the church. Okay, there is not so much to see here, true.
The place isn't really in the mountains, it's a typical Romanian village surrounded by some hills and woods, but it looks really peaceful and quiet. I'm going to be helping at a small family's handmade roof tile factory they run. And they also have many animals here, such as four dogs, a couple of cats, or hens and chickens running around the garden. And with a super nice dog staying in front of my door and protecting me, I also can sleep well at night 🙂
I will keep you posted about my adventurous life here, but I'm trying to enjoy my peace and quiet without the Internet. Talk to you soon!