My last week of traveling 
Friday 30th September
My two months of adventures have come to their end and this is my last post. I've really had a great time. The final week was full of traveling, and perhaps the riches in experiences of all. I hitch-hiked from the Piatra Craiului to the border with Serbia, found a way to get to a Czech village of Svatá Helena where I visited my countrymen, and then, in the middle of nowhere, stopped someone sent by angels who brought me to Belgrade. Through Novi Sad and Subotica I went to Hungary, and after one day visit to Szeged spent a few days in my beloved Budapest. Stopping by Győr and Bratislava, psyched and full of experiences and great memories, I returned back to Czechia. I'm going to do it soon again!
Long journey from the Piatra Craiului to the south of Romania
Wednesday 20th September
I'm leaving the family in the morning so I have as much time as possible to get where I want to get. I've truly enjoyed this place and hope to come back soon again. It's a very a very long way today. It's 350 km from here to a city called Drobeta-Turnu Severin, where I'm going to spend, hopefully, today's night at a couchsurfer's home I found. I have to emphasize again that I'm in Romania and there are no highways (there are few, but only few), at least not in these parts, and because there are basically no express roads either, traveling here is really, really slow, so to get to such a distant place from here you need almost a whole day. And it actually doesn't matter if you hitch-hike or go by bus, as also mentioned previously, hitch-hiking in Romania, especially on the main routes, is usually faster. 
It rains now and then, but there are some rainless windows in the sky so perhaps I will catch one and won't get wet much. I walk down to Moieciu, the way I know very well as I've walked here a few times already. Down there, the main route to south-west goes so there I'm going to start hitch-hiking, first to Pitești. Hmm, it would be great to stop a car going down, so I don't have to walk 4 km with my load and can save like 40 minutes of the time. I keep walking, for the last time enjoying the mountain surroundings slowly popping out the fog and clouds. Oh, I see a car coming. I recognize it, it's neighbors. I make gestures to show them that I just want to get down, and they stop. Great, like 30 minutes of my time saved, and my legs saved as well. 
The traffic is not so high at this time of the day. But I've been in such a situation many times here, I just have to stay calm and patient. Someone surely must be going to Pitesti or even farther as this is basically the only way. Well, eventually it doesn't really take too long and I stop a van going to Pitești. Oh man, what an experience this is…I mean, the ride is interesting and enjoyable, the road goes all along the Piatra Craiului, through the mountains, so the view is nice, but the speed…oh boy. The distance between Moieciu and Pitești is 100 km. Now listen carefully, it takes us unbelievable 2.5 h to get there! Yes, this is not a mistake, I'm not exaggerating. The ride takes freaking two and a half hours! It's insane. So this is Romania. Only one lane, lots of uphills and downhills, curves, all "spiced up" with zillion of traffic lights. And you're crawling behind a truck that can't accent an uphill. Or sit in an old, fully loaded van which can't go any faster.
So I was happy to be given a lift so quickly, but I forgot that in Romania you have to taken into account a double time. But I'm still good with time. I get out at a petrol station at the end of Pitești. The driver has brought me to a good spot, I just cross the road and can continue to hitch-hike to Craiova. The traffic here is crazy, it's a busy road. I like these places, they are perfect for hitch-hiking. A road to a big city, many cars, and space for them to stop. Hence, it takes just a very short time to stop someone. It's a truly nice guy doing me a good deed.
We talk about my adventures, as usual, and at some point we start talking about his job. He's just going to Greece. Yes, to Greece, it's actually not that far from here. He's is a repairman going to repair a car that broke down somewhere in the north Greece. That's how we find out that he can't actually take me all the way Craiova because he's going to turn to the south soon. I have to get out at an intersection, 25 km to Craoiva. It slows down my journey again, but it's okay, this is a very busy road. Considering the spot, it takes quite long, but eventually I get a truck and finally reach Craiova, reportedly a university and cultural city of Romania. 
I take an hour long walk around the city and set out on my last part of my today's journey, to Drobeta-Turnu Severin. I'm dealing with the common Romanian adventure's dilemma in my mind. Should I catch a bus, or rather go for hitch-hiking again? Well, since the bus station is a bit far from the center anyway, I'm gonna do what I always do – I'm going to get to the end of the city, and if a bus comes, I may take it. But this basically never happened so far 😀 I take a tram to the terminus, it looks like a good spot. And there is a bus stop as well. Probably it is the right spot for Craiova – Dr. Severin/Timișoara as there are many other people waving at cars.
I don't know what's wrong, this is surely the main route connecting Craiova and Timișoara, but half an hour is gone and no success. It's 6 p.m., perhaps I'll just take the bus which should just pass by here any time soon anyway. And it seems that there are more people waiting. I don't understand Romanian much indeed, but I can at least catch a few basic words, so I overhear a conversation of two people who are also hesitating. As far as I understand, the guy says something like: "yes, there's a bus from here to Severin at 6:10″. Good. So keep hitch-hiking and when it arrives, I take it.
It's 15 minutes past 6 and there is no bus, which is here, however, also not surprising. That's why hitch-hiking in Romania is in most cases much faster, because you can't even rely on buses. Okay, 6:30, I've lost one hour like nothing, and the bus is not arriving. I have to do something. Perhaps I need to get few kilometers farther, behind the ring that goes around the city, there may be more cars going. And mainly trucks which don't go through the city. I finally manage to stop a car. The guy is going somewhere else, but I convince him to take me out of the town, to the more convenient spot I'm thinking about. 
I'm standing outside the city, in an industrial zone. But no better spot exists anymore, this is the only way to Timișoara, and Severin, respectively. The only problem is that it's not easy for cars to stop here. I'm getting cold, and worrying about the rainy clouds I see nearby. It's also getting dark. Eh, this kind of traveling is really tiring. But now I can only wait and don't lose the belief. I finally stop a truck. That was a long one. I wouldn't really expect it here. And with this truck it's going to take ages, but better than keep standing here. Eventually, I'm gonna get there anyway.
I arrive in Drobeta-Turnu Severin. The couchsurfer is going to pick me up. It's been a long day and a very long journey. Tomorrow the jerky journey continues. Through Orșova somehow to Sfânta Elena. I don't doubt that I'll find a way to get there, but let's see how 😀
Looking for a way to get to the Czech village of Svatá Helena (Sfânta Elena)
Thursady 21th September
I have a couple of hours to spend in and explore Drobeta-Turnu-Severin. Not a very known city, not very popular for anything, but the biggest one in this part of Romania, therefore also a county city. It's nice to visit though. All over the city, you can find pieces from the middle age, the Roman times, or even earlier, such as the ruins of the Trajan's bridge or the Severin fortress. The south side of the city is bordered by the Danube, which is in these parts already quite wide. On the other side of the river is Serbia.
I take a rest and have my breakfast by the river. As much as I'm trying not to, my mind keeps thinking about a way to make it to the Czech village situated in the middle of nowhere. Looking at the river and mole, something just crosses my mind. Hmm, maybe there is a boat connection to Orșova at least. It would be slow, but it could also be a nice experience and at least I would get there for sure. Well, but this place does't look like there are public transport boats or cruises. It feels dead. I don't see any timetables or anything. Probably there is nothing. I will have to hitch-hike. I walk around Severin (that's how they call it for short) and go for a bus which is supposed leave the center for Orșova. It's gonna be the last public transport for me for some time again. 🙂 I mean, if it really arrives. I'm actually about to hitch-hike, because the bus is already 30 minutes delayed and I'm stopping believing that it will eventually come at all, but then it finally arrives.
I get on the full bus and find the last spot by the window, next to a guy who is also a foreigner. He starts talking to me. You see, I keep saying that, it's so easy to start a conversation when you travel. "Hi, where are you from? I'm from Serbia, do you know how to get there?" He's showing me a map on his phone, he needs to get to the other side to a Serbian village. "Eh, just tell the driver to stop by the bridge, that's how it works here." 😀 "Okay."
I arrive in Orșova. It looks really nice here. I didn't know about it. The Danube river surrounded by hills. It's a cool place, it's a pity that I don't have more time to enjoy it. Well, the time is still quite okay, but I have no idea how long it will take me to get to the final destination of Svatá Helena so I rather shouldn't waste much time here. But I still have some to look around. I walk along the Danube passing by docks, and then bump into an information table showing boat tours. Oh yes, maybe water seriously is the way to go! 😀
Reading the table, I find out there are a few boat tours to the caves and the sculpture of Decebalus. Of course, it's a touristic thing so it does cost something, but the price in Lei is not that bad. I've saved already lots of money so for once I can afford to pay for the experience, and to save 40 km. If I got to the statue of Decebalus, I would have only 60 tricky km left to Svatá Helena. I'll withdraw some money, look around the city and see. When I'm about to leave, I hear a guy calling and waving at me. I guess he wants to convince me to go with them. It's off season, plus a week day, so they don't have many people. Some providers don't even operate now. The guy doesn't speak English, but all credit to modern technologies like offline Google translator. With its help I try to explain him that I'm thinking about taking the tour if I can go only one way and get off at Decebalus. I don't know if he gets it but he shows me they leave at 1 o'clock – in 40 minutes. Great, so I have some time to see a bit of Orșova and then I come back and join. I'm excited!
After taking a couple of photos I come back. There is one more family joining as well. I'm lucky that the woman speaks English. With Google translator it didn't work very well. She translates to them my intention. "Hmm, so you aren't going back with us? How are you going to get back? You aren't going back, so where are you going then? And how are you going to get there? And how are you going to speak with them? Haha, okay, nice. Good luck!" Yeah, it must be funny for them, I understand. All of a sudden, a guy with two backpacks who doesn't speak Romanian, is taking a boat to get 40 km closer to his destination that nobody ever heard of 😀
Hmm, this motor boat is actually very fast, the jumps on the waves are very strong, I wouldn't want to be here with a hangover. And with this speed against the wind, it also gets very cold. Even the three Krtek's hairs tousled. We sail through Cazanele Mari (The Great Kazan gorge) to Peștera Ponicova (Ponicova cave), and on the way back stop by Decebalus where I get off. I have no idea what these people are talking about, but everybody's laughing 😀 I would be laughing as well, it probably doesn't happen often that someone pays for a tour but don't return back…
The weather has been nice until, basically, now. It got so windy on the boat, the sun is gone and it rains now and then. In Orșova I was still in shorts and a T-shirt, but now I'm frozen hard and have to even take on my jacket. And I have to figure out how to make the last 60 km to Svatá Helena.
This is sort of a touristy place, but not that touristy. It's mostly known and popular among locals, the few people that are here at this time of the year are probably from the surroundings, who just decided to go on an afternoon trip. And they all seem to be going back to Orșova. Plus, I see like two tourist buses, probably from Serbia or so. But who's going to take me now, then??? I'm worried. I don't see any cars going my direction. Okay, there is no trouble out of which I couldn't find a way out. It's never as desperate as it seems, it doesn't matter what it looks like. You just need one car. One car, nothing else. It doesn't matter if there're 100 cars per minute, or one car per 10 minutes. Just like now. Your brain is always telling you the chances are low and other bullshit. You know it well. So is it telling to me. Hmm, what should I do? I need to get there anyhow, there's not way back. And the way back isn't acceptable anyway. Maybe I just go and ask around. Or maybe go to ask the bus drivers if someone can take me. I would pay for it. Well, I'll just try to stop anyone to bring me closer. Step by step. Village by village. Finally, I'll get there.
I take 3 deep breaths, sit down and let it be for a while. In 5 minutes someone stops. "Can you take me closer, anywhere you go that direction?" "Well, we're going to Moldova Nouă." "Oh my goodness, this is where I need to get. I'm going to Sfânta Elena so I need to get to Coronini, which is like 5 km before Moldova Nouă." Awesome. "Where are you from?" "Czechia". "Więc rozumiesz po polsku?" Whaaat? How come that somebody here in the middle of nowhere speaks Polish?
We're going along the Danube. It would have been a very interesting ride if it hadn't rained. I keep checking the map and tell him to pull over in the village called Coronini, from where it is closest for me to walk up to Svatá Helena. It's overcast and rains quite a lot here, everything is in clouds. Hmm, not good. And I still have to walk 4 km up in this weather. I wish I stopped someone here. Perhaps after the village, when I get on the road to Svatá Helena. I walk slowly through the village, the shortest possible way, through mud, and behind a flock of goats 😀 But my luck is still with me because when I get on the road a car goes. "Dobrý den, můžu se s Vámi svést." "Jasně, naskočte."
I made it! I reached the "unreachable" again! 😀 When you dare, things will eventually work out for you 😉  The only "blot" on the lucky day is that it's raining. And it's supposed to rain tomorrow as well. It's a pity because the surroundings is really nice and there a couple of places I wanted to see. Well, I'll have to leave the trips, walks and views for some other time. I spend the evening in the local pub with the Czech villagers and other travelers. It's the second half of September so there are not many other tourists now and most of the people of the village can accommodate, but they say in summer it's sometimes crazy. I share my stories with them and learn something about their history and life. There are 6 Czech villages in Banát – that's what this region is called – and Svatá Helena is the oldest (still-existing) one. The first Czechs came here in the first part of the 19th century. More about Czech Banát in Romania here.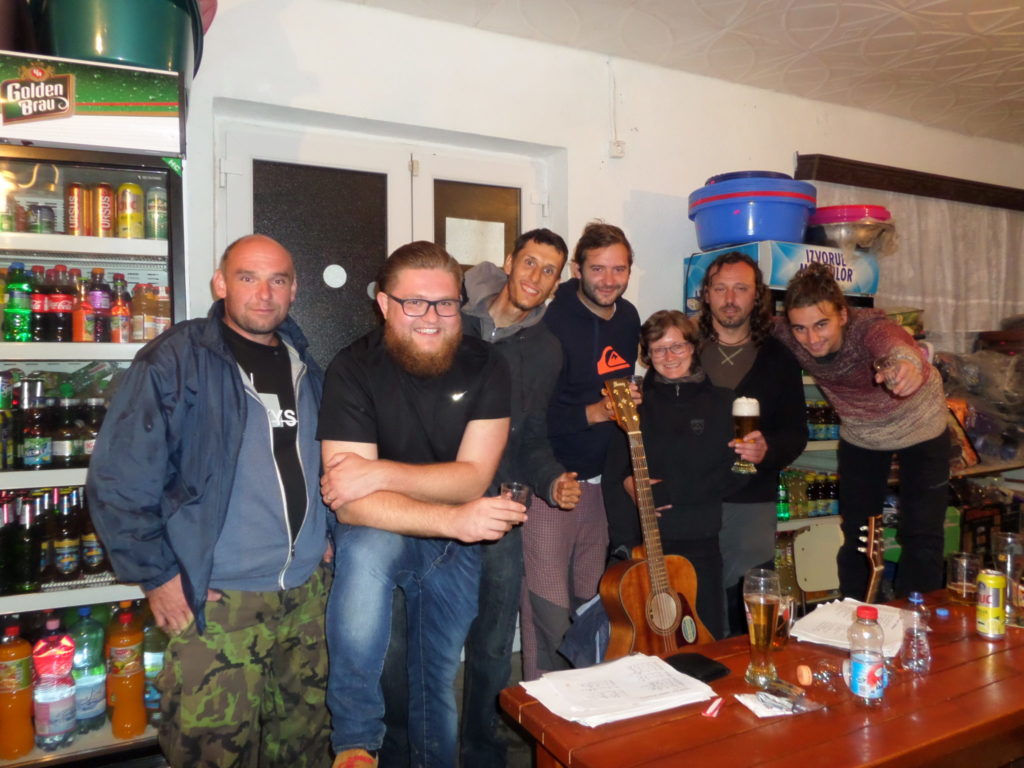 Welcome to Serbia – I'm not a refugee, please
Friday 22th September
So the initial plan worked out. I found a way to Svatá Helena and finally visited my countrymen. Too bad that I didn't enjoy it much and saw nothing because it has rained all the time. I wanted to visit the rock Kulhavá skála and also see the Golubac Fortress on the Serbian side of the Danube, but in this weather it's impossible to go anywhere and see anything. Well, it sucks, but on the other hand, it's the only day – day and a half – which was ugly here during the two months. The rest of my 2 months I spent here in Romania was really sunny. Now I'm going to continue following my plan, changing it at this point wouldn't make any sense anyway. I'm going to Belgrade! The unanswered question stays the same – how do I get there from these parts of the world. It's around 30 km to the frontier, then like 130 km more to Belgrade, but from Bela Crkva, which a town 11 km behind the border, there is a bus to Belgrade. The tricky part is to find a way to Bela Crkva…
It's raining again so I can't see anything today either. But tomorrow is already supposed to be better again. The bad thing is that I don't have good conditions for hitch-hiking and I'm gonna get soaked a lot today then. Let's start positively again, the first part is covered, the local victualler brings me down to the main road to Moldova Nouă from where I have to start hitch-hiking again. It's raining as hell. I'm standing at the end of the town of Moldova Nouă, there is no roof to hide under. It's the first time I'm forced to take out my raincoat. Well, it's rather piece of transparent plastic than a real raincoat, so before I actually manage to put this thing on me with the two backpacks, I'm fully soaked anyway.
The traffic is pretty low here, but you know, patience bring roses. But let's talk about patience when you are cold and the rain flows down your hair. I've been standing here for half an hour, not good. And very wet. I'm thinking about walking farther to find a roof under which I could hide, and about trying to stop anyone to bring me at least a few km farther. It may take lots of time, but kilometer by kilometer, I can eventually get there. After like 35-40 minutes, someone finally slows down and honk at me to get in the car. "Where do you want to get?" "Well, I will go with you anywhere closer, but let me get in first. So, I'm going to Serbia so I'm trying to get to the border crossing." "Oh, great, we are going to pass by so we can bring you there." "Awesome!" "We sometimes take hitch-hikers, we used to do it a lot too. And when we saw you being there out in the rain, we stopped." It's a very nice couple speaking very good English. We talk all the way, about our adventures, and even about mushrooms. I don't know if I ever held such a discussion about mushroom picking 😀
I've reached the border. Great. Only 130 more km to Belgrade, but now comes the trickiest part. And here also comes probably the craziest story of all. 😀 Okay, maybe the one about how I ended up in Moldova is similarly good. The crossing border between Romania and Serbia is officially located in Naidăș, but it's nothing more than just a couple of trees. Right now, there is literally nobody, except for two cars crossing the border. And one vagabond with two backpacks 😀 The custom officers are like what the hell is this guy doing here? Is it a refugee or what? They check my passport and when they see I'm Czech they probably realize I'm not a refugee, but I'm asked like one hundred strange questions. What are you doing here? Where have you been? Where are you going? Do you have a place to sleep? How much money do you have with you, you are obliged to have money with you. Any materials, things in your bag I can be interested in? No? Okay, you can go. Welcome to Serbia! Belgrade, I'm on my way!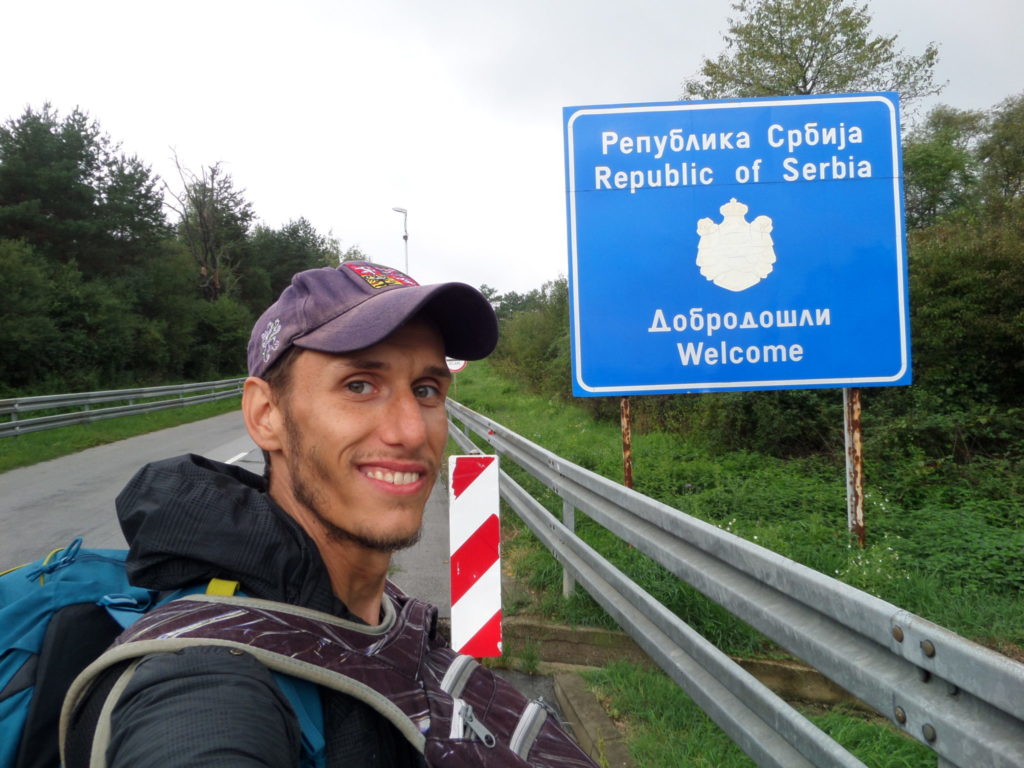 I've made it. Now the last tricky 11 km to Bela Crkva where I'll just hop on the bus to Belgrade. The first village in Serbia after the border is Kaluđerovo, which is probably one of the smallest villages I've ever been to 😀 It's like 500 m long and it has like 100 inhabitants. I pass the village, which takes me like 3 minutes, and continue walking towards Bela Crkva, hoping to stop a car as soon as possible. If something even ever goes here….this place is the purest nothing you can imagine. The road traffic is like 1 car per 15 minutes. And of course, nobody wants to stop here, near the border, because they probably think I may be an immigrant on his way to Germany.
So I keep walking towards Bela Crkva. Jesus, I really don't feel like walking 11 km with 15 kilos on my back. But what can I do…it's not raining at the moment, but it is about to in any minute. This place is like a real definition of "middle of nowhere". No cars, no people, no buildings. Nothing. Just a flat road and many kilometers ahead. Whenever there is a car passing, which happens like once a 15 minutes, I try to hitch-hike. I feel like everyone even speeds up when they see me. I'm slowly getting tired. And it starts dropping again. I take off my cap to show I belong to Europe, take out my passport to show I'm not here illegally, and money that I'm willing to pay to get out of here. No success…I can't do more. What's wrong?? Please. Just one car. Help me to get out of here, please. 
After 5 km, one hour of walking, I give up, losing my hope. This looks difficult. Has the fortune left me for today? Have I really run out of  luck after the two months. I sit down on a wall of a small bridge crossing a little creek, exhausted, getting wet again, but somewhere inside still believing that things will work out for me in the end. Maybe this is for my good again, although I don't see it right now. I see no cars coming towards me. Nothing on the road on the left side, nothing on the road on the ride side. There is nobody and nothing kilometers around. I only see the roofs of Bela Crkva 6 km in front of me, being covered by black cloud again. Alright, for a few minutes, just for a short while I'm going to let it be. I take a sip of water, close my eyes and take a few deep breaths. I'm here and now, nothing else matters at the moment.  
I open my eyes and sit there for a few seconds. Man, it's hard to believe, but I swear to God, this is what happened. Sitting on the wall, all of a sudden, I see a car coming towards me on a farm road from the field. It is not coming on the road from Kaluđerovo, but from a field in the middle of nowhere! Okay, if the car turns left (meaning my direction) I have to stop it in any way. This is my last chance. As they are turning left, I stand up waving everything I have, including money, and begging to get a lift to Bela Crkva. Oh man, it's just last 5 kilometers, if they stop I will convince them. They notice me (impossible not to) and with their faces saying what the hell, they open a window. After proving that I'm not an illegal immigrant and explaining them that I just need a lift for 5 km, they let me in. They actually seem very excited that they've taken the first hitch-hiker in their life 😀 Thanks Go..eh, the Universe! Tell me that this was a coincidence. I'm saved. Now I will just look around the town and then take a bus to Belgrade. Okay, the crazy story doesn't end here, however. 🙂
We arrive in Bela Crkva. "Is it okay here?", they ask at an intersection. "Yes, sure, anywhere it's fine for me. I thank you a lot. I will just go to the bus station and take a bus to Belgrade." I'm opening the door and getting out of the car, and after like 1 minute of silence and a glance exchanged between the two guys, the younger one says: "We are going to Belgrade". What???!!! We are going to Belgrade, we just need to make two stops in the city to deliver beer, and afterwards we will go to Belgrade, so if you wait for a while, you can go with us. Ooh my Goood, this is not happening! 😀 I don't believe it. I started feeling desperate, but somewhere inside I didn't stop believing, and even though it took 5 kilometers, it really was for a reason again! I stopped a car coming from a field, in probably the emptiest place I've ever been to, and the car now turned out to be going all the way to Belgrade…Now I know they were probably coming back from a far away village somewhere there, but the timing and everything. This is insane. how the hell did they. This has really brought a smile on my face. I can't describe the feeling. This is probably how it feel when you dream comes true. 😀 It does work.
The ride passes quite quickly as the younger guy (I can't remember his name) just keeps talking. It's apparently so much fun for them to have a hitch-hiker in their car. I have no idea what are they doing that far from Belgrade, but they are delivering beers to these places. So Czech beer is indeed a hot topic all along.
So I get a lift all the way from that shithole to Belgrade, right in front of my hostel. Yes, this is where I get out. Incredible. Looking apart from the fact that it took some time and I had to walk 5 km in the middle of nowhere, which was actually an interesting experience, my "luck" has finally been on my side again. This is great proof that if you doubtlessly believe and don't let your brain win, finally, things work for you. 
Two days in Belgrade – Surprisingly cool city with a positive vibe
What comes to your mind when I say Belgrade? Well, to be honest, even for us Czechs, Serbia is "far Balkan", a post-war and post-communist developing country. That's what a usual conservative Czech would think. Some people don't even know it exists, they still think it's Yugoslavia, or in a better case a former country of Yugoslavia somewhere in the Balkans. Sorry for that, but it's the same for us Czechs when we go to a Western country. They still think we are Czechoslovakia….
Anyway, indeed I know there is Serbia, but also consider it rather a developing country. It's not in the EU, it was effected by many wars, well, that's the picture I have too. And in a way that's correct, but I have to say that at least Belgrade is doing much better than I expected. Apparently, it's growing and developing pretty fast lately. Many new or restored buildings (except for Novi Belgrade, which is, as a matter of fact, the Belgrade New Town), big companies, business center, new buses with a chip system, but mainly many foreigners and even expats everywhere. You can hear English and run into young people really a lot here. Also, I know some people may not agree with me, but to me the local people seemed quite nice, and most of them speak English. to me This doesn't happen in Chishinau 😀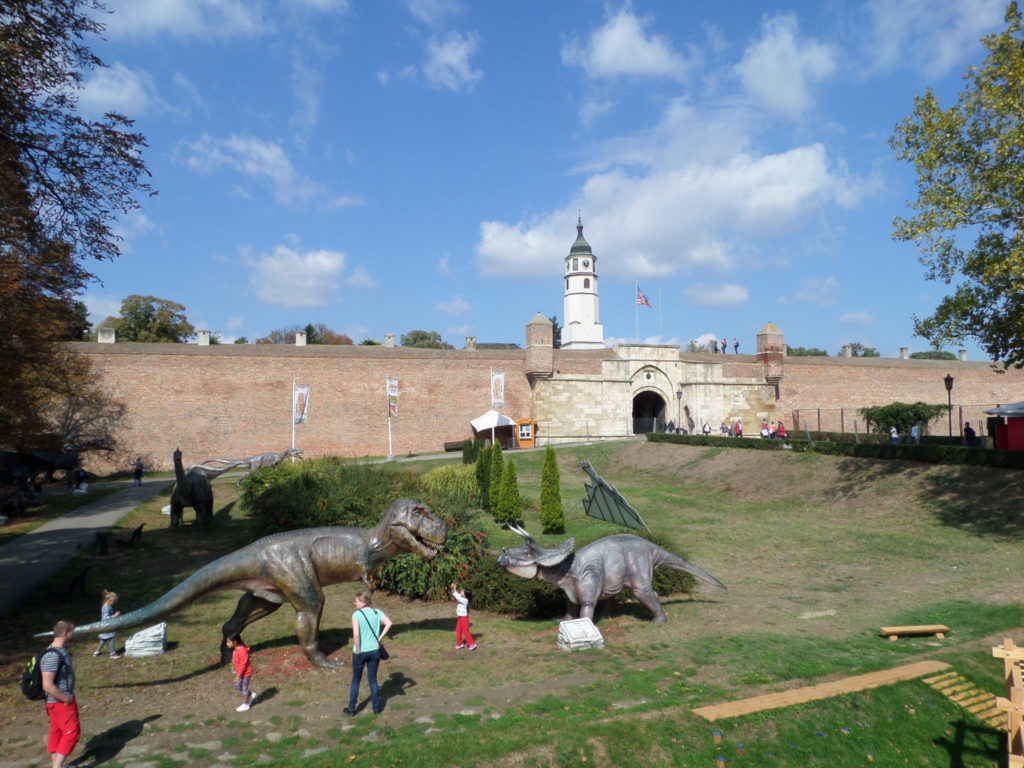 Belgrade is a city with very rich – war – history, and there is really a lot to see. I spent there the Friday's evening and the whole Saturday, but it wasn't really enough to see everything. If you want to enjoy it fully, you should reserve an extended weekend. I rarely ever do it, but this time I took a guided tour through the Belgrade's underground, which is very, very big. The guide said that because of all the wars, this city had had to face in the past, it's been rebuilt 17 times and there are underground corridors under most of the city's surface. Belgrade really feels young and has a very good nightlife. This city has this special, positive vibe to me. I'm going to tell you about Belgrade here.
Through Novi Sad to Szeged – Enough of hitch-hiking
Sunday 24th September
I've enjoyed my time in Belgrade. I'm really sort of surprised and I can imagine coming back here some time again. There are still a couple of things I would like to visit, if nothing else than Tesla's museum. Since it's pretty much on the way anyway, I want to pass by Novi Sad – the second biggest city of Serbia – to easily pin another place to my travel map. 🙂 And because there are quite a few bus connections as Novi Sad is situated only around 90 km north of Belgrade, this time it's just easier and faster to take a bus. But I actually have no clue how I will continue to Szeged afterwards. Well, I'l see about that later. 
Novi Sad is the second largest city of Serbia, but indeed much smaller and quieter. A few hours to visit the city is usually enough. Just like Belgrade, Novi Sad has a very rich war history, thus you can also find and visit here an underground. And along with that the Petrovaradin fortress. More about Novi Sad here.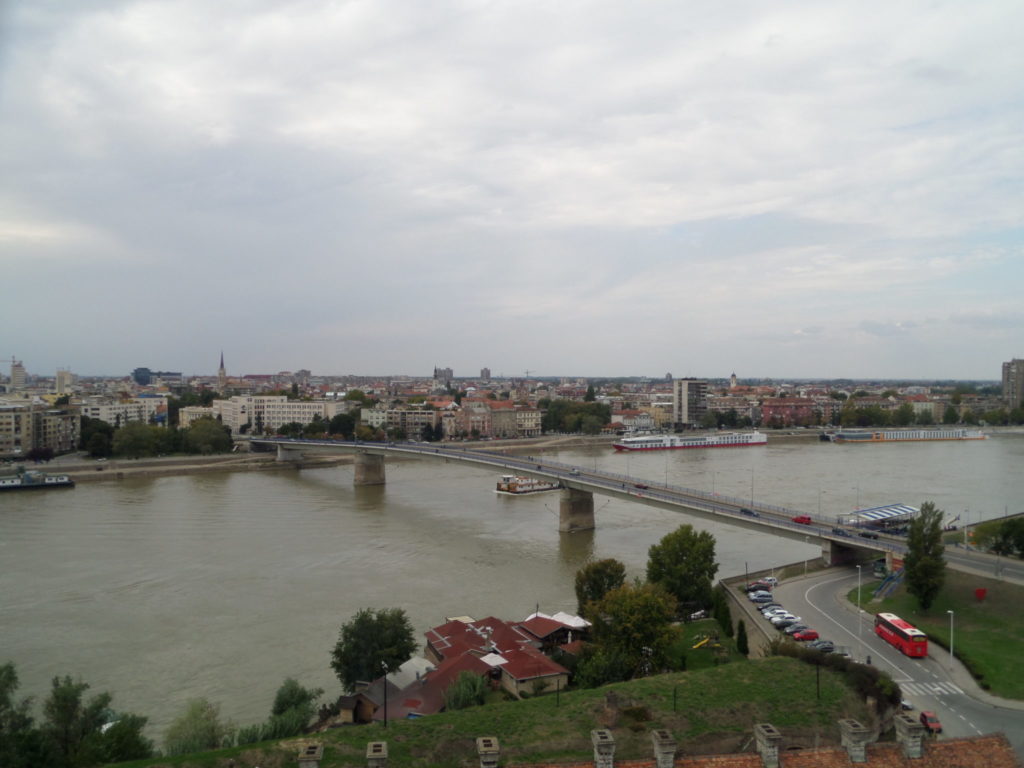 Since I have for the the city just a few hours, I only visit the fortress from outside to take some pictures and see the view over the city. I have to figure out how to get to Szeged from here. As a matter of fact, it's very close, only some 130 km from each other, and there is also a busy highway so you can get there quite quickly as well. If you have a car though. That's why I also thought it would be easier to get Szeged from here, but believe it or not, I don't find any connections at this time. No buses. Nor trains. I could then go hitch-hiking again, I'm already an expert in that, but there's a little catch here. The highway to Szeged is very busy as it's basically the main connection between Budapest and the Balkans, but majority of cars are going from Belgrade and you can't just stand on the highway to stop them, naturally. Another thing is that there are three roads going out of the town to the highway, but which one should I choose and how do I get there? This seems a bit risky and time-consuming, so when my couchsurfing host (thanks for that again 😉 ), at whose place I'm supposed to stay tonight in Szeged, tells me about another, longer but safer option, I just decide to go for it. I go for a snail train to Subotica from where, supposedly, should be a student bus to Szeged. The train really goes ages, to make 100 km it takes 2.5 hours. Unbelievable. But it feels so good, so good to just sit, relax, and enjoy the ride without any stress. As I'm coming back to more "civilized" countries again, (talking about transportation), it also seems that my hitch-hiking series is now over.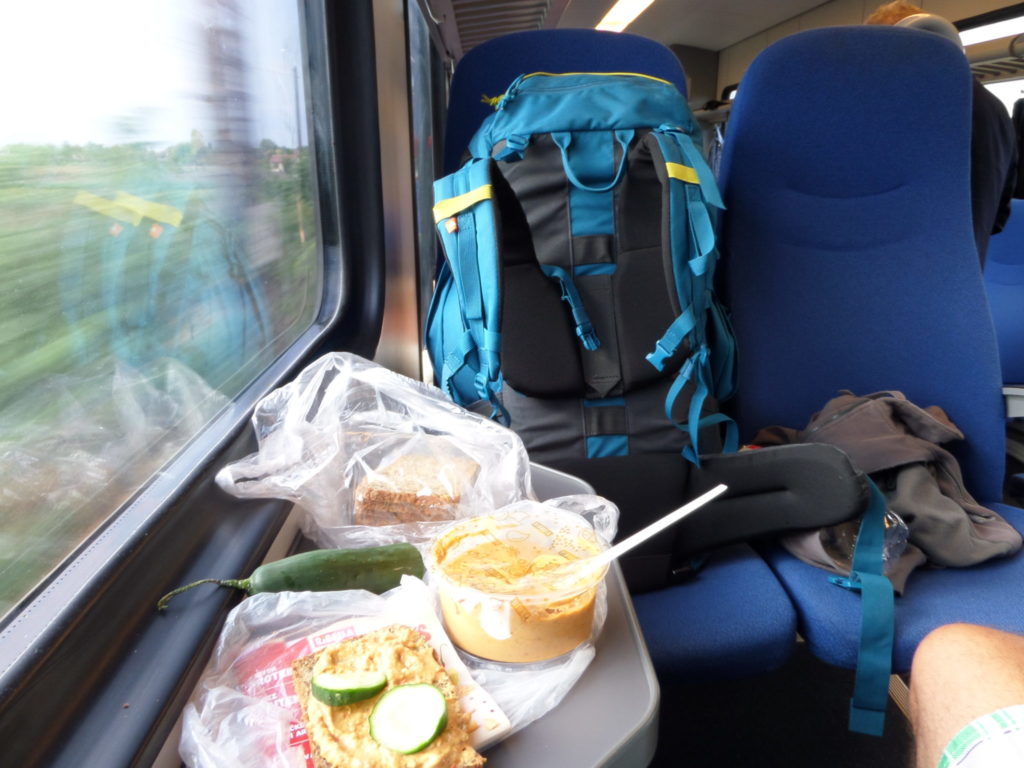 In Subotica I change for the evening bus to Szeged. And Hungary is welcoming me the usual way. 😀 I go to buy a ticket at the office at the bus station. The woman tells me: "Yes, there is a bus in 20 minutes, as the ride is split in between two countries, for the first part you get a ticket here, for the Hungarian part you have to buy it from the driver. I know it's ridiculous but they don't want us to sell the whole ticket, I don't know why…"We both laugh, and then I just wave my hand saying you don't have to explain me. It's like welcome back to Hungary dude, where nothing works and nothing makes sense 😀 Apparently nothing has changed in past two years (I lived in Budapest for 2.5 years).
Monday 25th September
I stayed at the Couchsurfing girl for one night, now I have the whole day to explore Szeged. Later afternoon, I'm going to Budapest. I lived in Budapest for 2.5 years, but never managed to visit Szeged. Even though it's not so far. But everyone used to tell me it was a must. So I'm doing it now, two years later. 
The yesterday's experience with buying tickets to Szeged in Subotica made me realize that I'm back in Hungary, and therefore I should prepare my nerves and adapt to the local (il)logic. Today's experience made me realize that it's not easy and also is one of the reasons I couldn't live in Hungary. I go to a shop and when I'm about to pay at the desk, the cashier starts saying something in Hungarian. I have no idea what she's saying but she doesn't want to take my 5.000 HUF bank note. First I think she doesn't want to take it because I'm buying just two things and the bank note is too big, but then she shows a new bank note and I get it. The bank notes I still keep from the times I lived here are no longer valid, I have to go to a bank to change them.
So I go to the bank, of course nobody speaks English, how else, but that's indeed not surprising. I just need to change one old 5.000 HUF bank note, and one 20.000 HUF. She definitely must understand what I mean when she sees the old, invalid bank notes. But I have another request. And that's a challenge. I'm asking: "Could you also change the 20.000 HUF bank note for something smaller, like 4 x 5.000 or something?" She doesn't get it, of course. Okay, let's go for hands and fingers. "Egy this (showing her that for one 20.000 bank note),  negy this (I want 4 times 5.000 HUF )". No, I can't change it. Or something like that she says. Seriously? "One this for four this". Nem, blablabla….what the hell, is this a bank? You change new ones for old ones, but for some mysterious reason you can't change a big note for smaller ones? Vain effort….This is Hungary!
Szeged is a student city, it's quite small, but really nice. There is not that much to see, though, I've manged to see everything within a half of a day basically. Thus, I also visit the local baths – Anna Thermal Baths! This is most likely the thing I like about Hungary most! Thermal baths, I miss them a lot all the time. 
In the afternoon I move on to Budapest. Another tip of mine, a carpooling in Hungary works very well and people use it a lot. You can find many rides on BlaBlaCar, but in Hungary there is something which existed even before and works even better. The service is called Oszkar.com and you can really find there rides even to less popular places.
Back in awesome Budapest – it still feels like coming home
It's a bit symbolic end of my two months of traveling. It's a bit weird feeling. It feels like I never left and now I've come back home after a trip. Those who don't know my story, I lived here in Budapest for 2.5 years, which were the best years in my life. So far. It's a comeback after almost two years. I see a few things have changed here, but the city still keeps its great spirit. I still love it! I always get very nostalgic. So many memories coming back…
The sadder part of coming back to Budapest is that most of the friends, most of the people I used to hang out with have already left Budapest as well. And it's super weird to come back to the city which was my home for two and a half years and be accommodated at a hostel 😀 Fortunately, it's off-season so everything is cheap, half-empty and the hostel (called Just Like Home Hostel in Tompa utca) I stayed at was pretty good. Smaller, pretty quiet, yet very cozy to me. No bunk bends, great kitchen and living room, and with a convenient location. Well, very close to my former home 🙂 I stayed there for two nights, and the other two remaining nights I was put up by a nice Pakistanian Couchsurfer – greetings to Kamran, hope to bump into you soon again 😉 We went for a walk to the Buda Hills, my favorite "clear-your-mind-and-relax" place, namely from Normafa to Budaörs. You can read about all these places in my posts from Budapest, or the page I dedicated to Budapest. I also met up with my friends, and at that time colleagues, and of course I couldn't miss out on the thing I've been looking forward to for all that time – the thermal baths! I always love to come back. 
Stopping by Győr and Bratislava, on my way back home
Friday 29th September
That's it. Two months of my wandering full of adventures are over. Tonight I'm going to be back in my boring home town again….I finish my travels with one more stop in Győr, another city I never managed to visit before, and a very short stop in Bratislava from where I have a lift back home. No, no hitch-hiking anymore, I found a ride share through Oszkar. As mentioned, it works very well here in Hungary. And I also found a RegioJet bus to Bratislava, and finally car back home.