My life will always be a never-ending adventure. My initial plan for Portugal was, of course, a bit different. I came to stay in one place till Christmas, and perhaps afterwards come back again. In the end, I stayed at the first place only a week, then involuntarily came back to Lisbon, and nearly returned back to the Czech Republic after only two weeks. But I let it be, didn't give up and gave Portugal "another chance".
I found new, very nice hosts and eventually enjoyed my time in Portugal. I had the opportunity to see probably the most depressing landscape in my life while helping people clean up the mess and damages after the huge October Portugal's fires, but I also got some tan and dipped my feet in the Atlantic Ocean!
Disaster averted, impressions improved
It was a very close one, but in the end I found another host. In fact, it took some time, but finally more people replied to my requests. Also one more woman living in a place not far from the one I'm heading to. But since they were first and I've promised already, I'm not going to change the plan. It's a Belgian couple and they're located in central Portugal, around 50 km north of Coimbra.
I've found a Blablacar ride to Coimbra for a pretty good price. Well, traveling in Portugal is not that cheap. Sure, it's still cheaper than in countries like Germany, the Netherlands, let alone Scandinavian countries, but as I'm used to the low Czech prices for transportation, I find it a bit expensive. Paul, the driver, is an older man, but he speaks very good English. We have a nice and interesting conversation, exchange our ideas and plans, and finally also our contacts. He is running a business in the rural tourism in the north Portugal, so who knows, one day I may visit his guesthouse 🙂 I've said it many times already. You never know who you can run into and how they can be useful for you. Just stay open. And since he continues driving farther north, I'm lucky to eventually get a lift up to the place called Santa Comba Dão, where the hosts are going to pick me up. 
Roughly 30 km north of Coimbra, more or less after the town of Pecanova, the landscape rapidly changes. The forests become thin, green turns into black. We've just entered the zone where the big fires took place over a month ago. I don't watch TV, neither do I follow the news, but about big things you always hear from someone anyway. I knew there were some fires in Portugal and Spain, but you know, there is always something going on in the world, nevertheless, as long as I can't help anyone or it doesn't effect me or people I know, I usually don't really pay any attention to it. But now, when I see the consequences and can imagine what probably must have been happening here….this is not a nice feeling at all. We keep going for like 20 other kilometers but it's still looks the same. Everything is burnt. Insane. 
I get out at the train station of Santa Comba Dão, where I wait for my hosts. And I get even more depressed when I see the debris of the houses nearby. All that has remained after the fire is bare walls and smell of burnt wood. The new, welcoming hosts tell me: "It's a terrible view. It's sad. The landscape looks like frozen, the trees that still remain standing are brown, but just a few more kilometers and everything will be black. We are located right in the middle of the fires. Everything is gone, only our house is still there. We were really lucky. We waited until the last moment, but the fire was coming so fast towards us, we just took our dog, got in the car and escaped through the forest. Next morning we came back, everything was black and covered by ashes, but our house and guesthouse were still there…."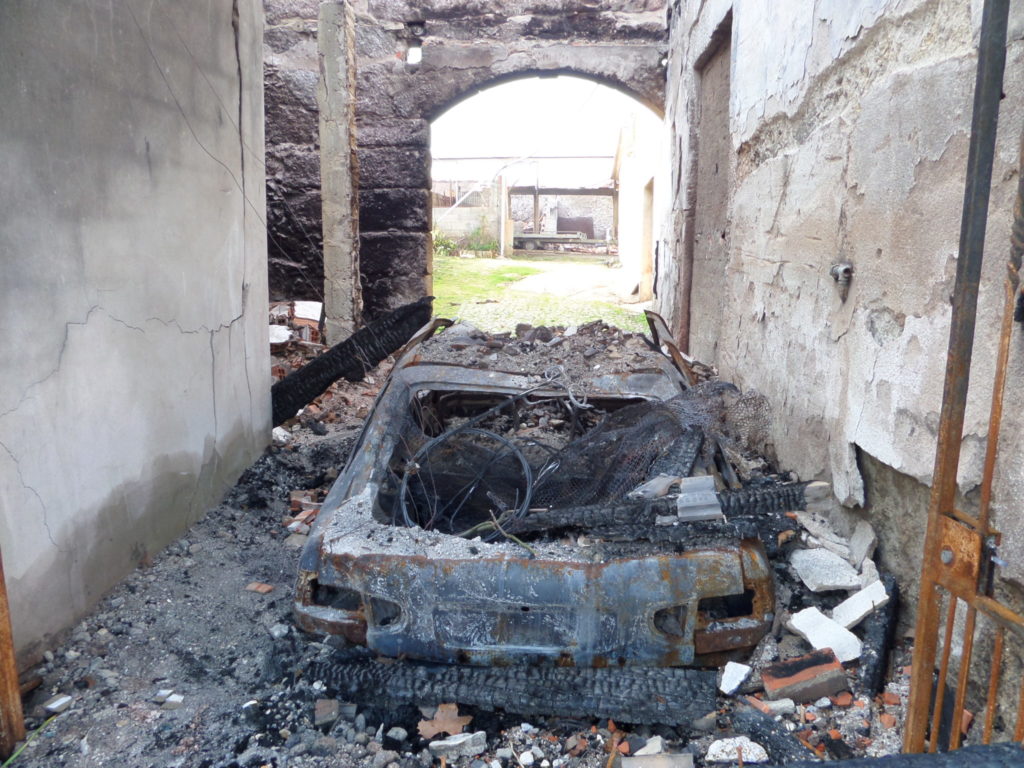 We arrive at their place. It's really in the middle of nowhere, surrounded by hills and, well, at that time forests. It must have been beautiful here. But now it's very hard to imagine. Yes, frankly speaking, I don't think I've ever seen anything more depressing in my life. In some parts, there are not even trees left. Only big holes in the ground and burnt stones. In "better" places, there are black remains of trees, ashes everywhere, and the ground is covered with brown needles that have fallen down from trees. Where normally used to be a forest, now is….nothing. Now you can walk anywhere you want and see kilometers far, because it's just a black empty ground. It looks like a moon surface. No animals, no nature. Real quiet. And a smell of burn. When looking at the hills around it feels like watching The Day after Tomorrow or a similar American disaster movie. 
Helping with cleaning up the consequences of the fires
Well, as already mentioned, you don't really realize what this is about until you see it with your own eyes. A huge part, really huge, of central Portugal is just gone. Whenever you walk, whenever you look, you imagine what all these people must have been through. There is no nature, your shoes get immediately black from ashes, when you touch a tree you get dirty from soot. It must have been a real hell. Many people died as they tried to fleet from the fires. Many people have lost their homes. And some people were "lucky" when they have lost everything, but their house. The same happened to the Belgian couple. And also some neighbors as well as to many other people in this area. As they also say, it's sad. "We felt depressed. But at some point, the only thing you can do is to start again." But it's unbelievable. The house is basically untouched, but you walk out and right behind  the doorsill you only see debris of other buildings and burnt wood or other stuff left on the black ground. They were able to make the public lights work again only last week. So they had been without a light for more than a month. What's also incredible here in Portugal is that everything grows super fast. It's only like 6 weeks after the fires and in some places there is already green grass again. People say green grass came back after like 2 weeks. 
So naturally, that's what basically my tasks were about. I was helping with some general cleaning-up and maintenance of their house, quinta (a typical estate in Portugal related to a wine production, understand it as a winery or possibly vineyard) and the garden. And of course cutting and stocking wood. There is now lots of wood everywhere, indeed. Most of the trees must be cut down because they won't grow anyway, but the contrary, they may fall down at some point since the roots under the ground are burnt. 
If you still feel like seeing more pictures of the area, you can find them here.
This time I didn't really take trips while being here. Well, the truth be said, it feels a bit weird to walk around the black environment, but also because the weather this week was rather a bit cold and pretty rainy, which wasn't so enjoyable for me, but definitely great for the devastated and dried-out nature. But one day I went to explore a nearby abandon village. Unfortunately, it now looks pretty much the same as many other villages after the fires here, but in fact, the inhabitants left this village already 50 years ago so it has nothing to do with the current situation. Reportedly, back then it wasn't due to fires either. I felt like playing Call of Duty in reality when walking through the ruins 😀
One more change of the host – from fire to fire
Staying with the Belgian couple was really nice. I really had a great time with them. I've put their place on my list and will surely keep it in mind next time I want to pass by. If you by any chance are around and want to escape from the usual busy life to a remote, quiet place, or come to give them a helping hand, you can find them here, in Vale do Ferro. They also run a small art gallery. And I wouldn't mind staying here longer, but the other host kindly asked me if I could split my time as she really seemed to need help as well, so why not to come over for a few days since she lives just a few kilometers far from here. It's not such a coincidence that there is another host living nearby, there are many people in the need of help in this area. So I can imagine that the type of help Naomi needs will be pretty similar. The funny thing is that Naomi is not Portuguese, either. So after a week spent with Belgians, I'm going to stay with a British. This is a territory popular among foreigners, as far as I've heard, especially then Belgians, Dutch and British. And I guess the reason is obvious – the Portugal's sunny weather, and in case of the Dutch and Belgians most likely the nature, too.
I'm picked by Naomi in Oliveiro do Hospital, just a small, random town. Quite nice though. And afterwards we go to her place. The landscape really doesn't change much, not that I haven't gotten used to it by now, but the picture you see can never be positive. If the first place was right in the middle of a burnt-out area, this place isn't any better. You go on the road and everything is black. Then you turn off the road and go through the village where you see half of the houses without a roof. Finally, you pass the village and go a bit down to the forest, and everything is black again. No grass, no leaves, and cables still lying on the ground. Naomi was lucky the same way as the Belgians. The forests around are gone, her garden is burnt, her garage is burnt, but her house is still there. Unbelievable…
She also told me her story, which is even crazier than the first one. At that time, there was another Workawayer staying at her place. They also waited until the last moment, in the middle of 4 fires. Late at night, they escaped to the nearby village, gathered with other villagers, sat on the roof of one of the houses in the square and waited for what was going to happen…fire goes really fast. And the tricky part is that you can never be sure which direction. It's very easy to underestimate it. If you wait too long, it may be too late. After just a couple of hours, everything was over, however. They came back early morning, ashes still falling down from a black cloud, accompanied by a terrible smell. Everything burnt to pieces, but her house was still there. She told me that some people even "hide" from the fires in the river…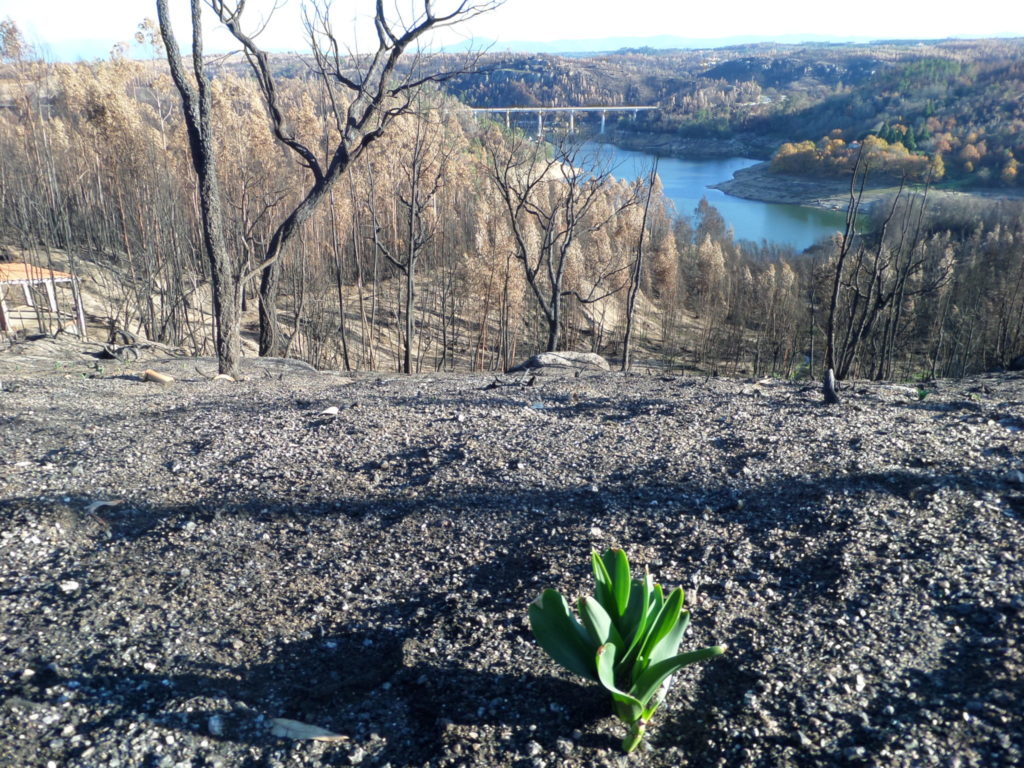 At least her garden has become a bit green again, so if you look apart from the burnt wood scattered around the garden, this place is quite nice. My help is quite similar, not the very same though. I'm helping with cleaning-up the garden and also digging sort of a seedbed so she can plant there new plants and trees. After the rainy week, the weather has become pretty Portuguese again. It's simply amazing! It freezes at night, but by day when the sun comes out, the temperature rises up to 15-16°C again! I really love eating my lunch in mid-December outside while sunbathing and getting some tan!
Well, I know it now looks like after a war, but just a few meters down the hill, there is the river of Mondego. I used to go there to relax everyday. One day I even took a few kilometers long walk along it. This river very well displays the current situation in Portugal. There is a substantial lack of water in Portugal due to very hot and dry weather. You can see the strip showing the original level of the water. Now the water level in the Mondego is good 15-20 meters lower, which also makes me think how the hell the ruins of buildings, which now can be seen by the river, got there, since they must have been under water for pretty long time???
Although I was't staying in a very positive place, it's been an interesting experience. I had a great time with everyone here. One day we went for dinner to a restaurant in Tábua and I had most likely the biggest dinner ever. Apparently, I'll never lose my appetite 😀 And on my last day we had all together a nice pre-Christmas dinner.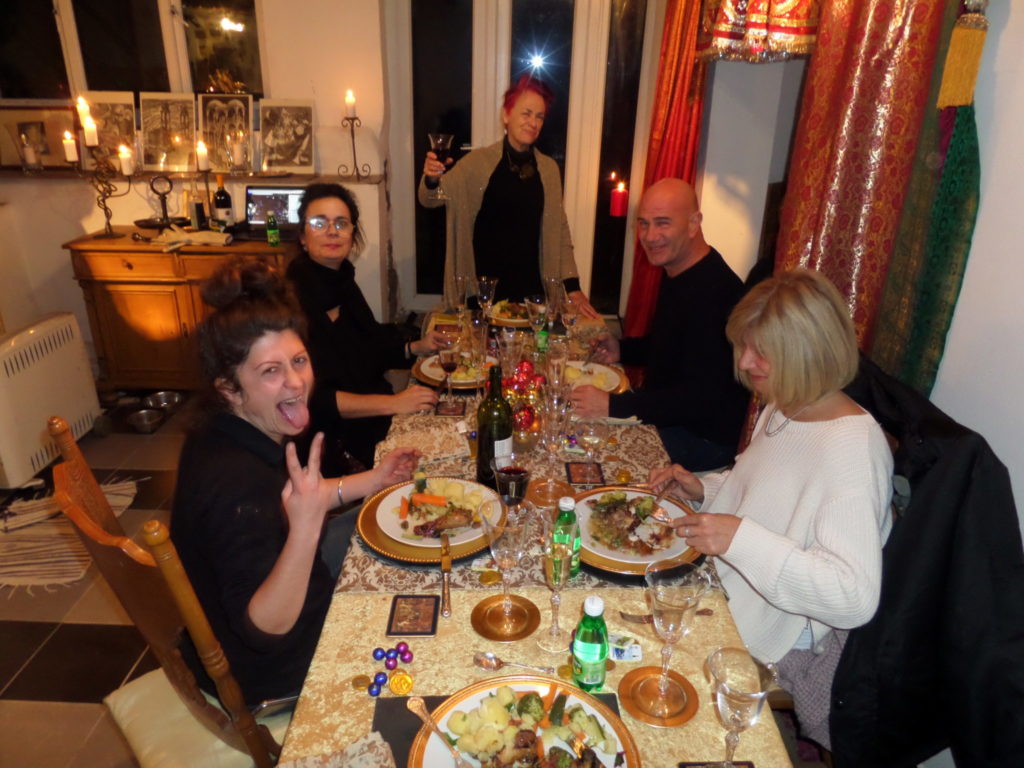 Many unanswered questions behind the cause of fires
I wonder what the place will look like once the nature get back to normal life again. Or, at least for now, what it will feel like to see after two weeks again green forests. I feel sorry for the people, but I was happy to help all the more. I've seen a few videos recorded by people as they were fleeting, and other terrifying videos. I'm not going to post anything like that here, it's up to you if you have guts for that to search for them on YouTube. I think the few photos of mine may be enough, but if you want to see all the photos I took, you can see them here.
I've heard many various stories about how the fires actually started. There is no doubt there that were very good conditions for that, no matter what actually happened in the beginning. Portugal had been plagued by extreme heat and drought, it hadn't rained at all for like 5 months, and there has been a lack of water in general. Naturally, even a little is enough to start up a fire then. The other thing people say is that there was a very strong windstorm, then indeed the fire becomes unstoppable. Burning leaves fly around and since everything is dry, they easily spread the fire even kilometers far away. But there is also a certain thing that to a large extent definitely contributed to such an enormous territory has been burnt down. Eucalyptus. Yes, eucalyptus trees. There are many of them planted around Portugal and they cover quite a big area of Portugal's forests. One guy told me that there's a huge business behind it. Eucalyptus trees don't naturally belongs to Portugal, they are man-made forests and they simply have been planted here to quickly bring wood, as they grow very fast and have then a very short production cycle. Nevertheless, the problem with eucalyptus trees is that because of the amount of oil the wood contains, they're highly inflammable. When the eucalyptus tree's leaves and bark are spread by wind, the disaster is unavoidable. Here is an article on the "political" problem of eucalyptus plantation.
Short stop in Coimbra, Fátima, and for the last time in Lisbon
Thursday 21st December
I'm leaving for Lisbon, and tomorrow at night I'm flying back home. But on the way to Lisbon, I want to make two stops. I want to pass by two places worth a visit. The first one is Coimbra where I get by a direct bus from Tábua. After two weeks of being here I got already used to this black scenery in a way, but I it's surely not a positive view. The damaged area is really, really huge. They say it's more than 500,000 hectares. This is insane. For like other 25 km I still see the same black landscape. Then, at some point it changes. I remember exactly the point after which it changed. It all feels so different all of a sudden. Everything is green again. It feels so much positive. 
Coimbra is a nice city, known mainly for its university – one of the oldest in the world. Just to see the city you don't need more than a couple of hours, but if you also want to visit the university complex, you should reserve a few more hours. I didn't visit and had to leave it for some other time, because I also wanted to see Fátima by daylight, which I eventually managed at the eleventh hour – at dusk. I write more about Coimbra on this page.
I check the timetable for the buses and trains to Fátima to see how much time I still can spend here. Well, of course, there are no connections at this hour. The next bus leaves at 15:30 arriving in Fátima at 5 o'clock, and that's very late. There is a train at 3 p.m., it takes only a little bit more than one hour so I can be there at 4 o'clock. It's a bit later than I planned, as usual, but it's still okay. I don't think I'll need much more than an hour for this town. I come to the train station, of course just a few last minutes before departure, how else, and ask the cashier for a ticket. When I'm about to buy it and run for the train, she says: "Well, if you're going to visit the sanctuary, you'd better take a bus because from the train station it's like 30 km". What the hell? Of course I'm not gonna walk that. Thanks a lot for telling me that. So, in the end the bus it is anyway. I'm thinking if it's really worth it now, so late. But it's sort of on the way and I would love to see it. I decide to take a bus and go to Fátima. Thanks God, the sun here in Portugal sets only after 5 so I still have like 20 minutes to take pictures until it gets fully dark. So finally, I have even less than an hour, but I'm happy that I still managed to see and take photos of all important. At 6 p.m. I have a Blablacar lift to Lisbon.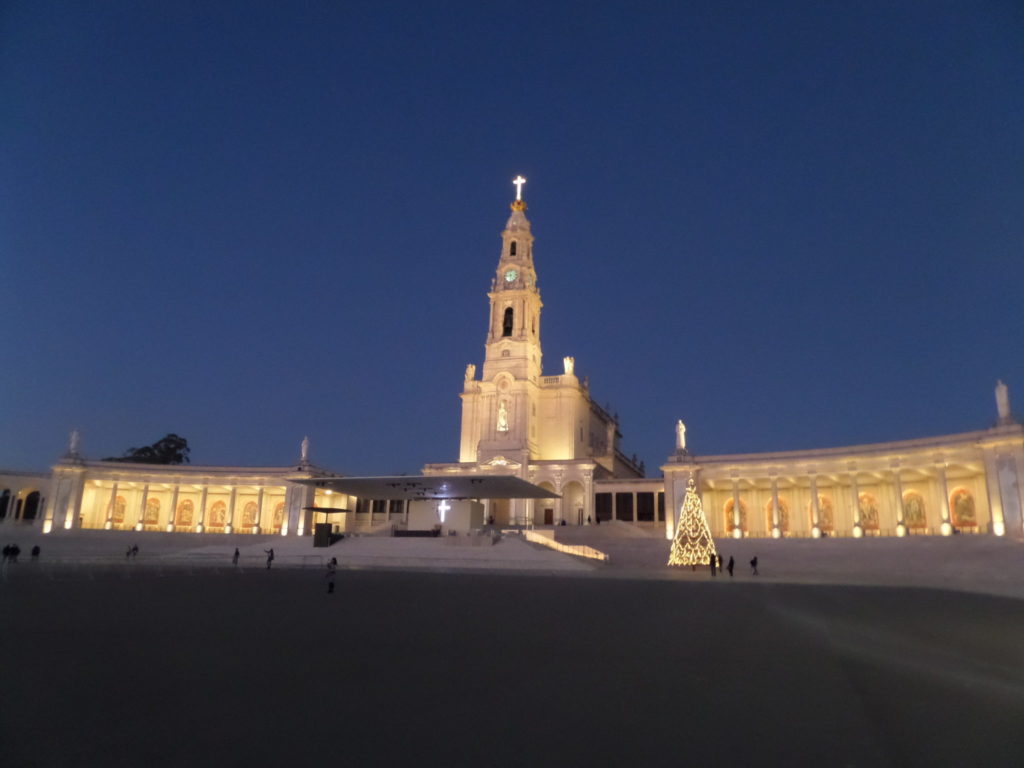 My last day in Portugal – once more by the ocean
Friday 22nd December
It's my last day in Portugal today. At least in this year. And most likely, now I can already say it, I won't come back after Christmas. Portugal is a great destination for winter, it was a very smart decision. The last week it rained quite a lot and was a bit colder than it's normal here, but even though it gets a bit cold at night, and in those remote places it froze at nights, it's two days before Christmas but the temperate rises again up to 16°C and there hasn't been even one cloud in the sky for a whole week! I'm not joking. For 7 days already I haven't seen a cloud. 
As mentioned previously, Lisbon is quite a big city and you can easily spend here a week and still find things to see or to do. I haven't seen everything either, but have spent quite a lot of time here already, and since I have basically the whole day to use, and the weather is awesome again, I want to visit the sea one more time! Or the ocean to be 100% correct. I have just a few places in Lisbon I don't want to miss before I leave.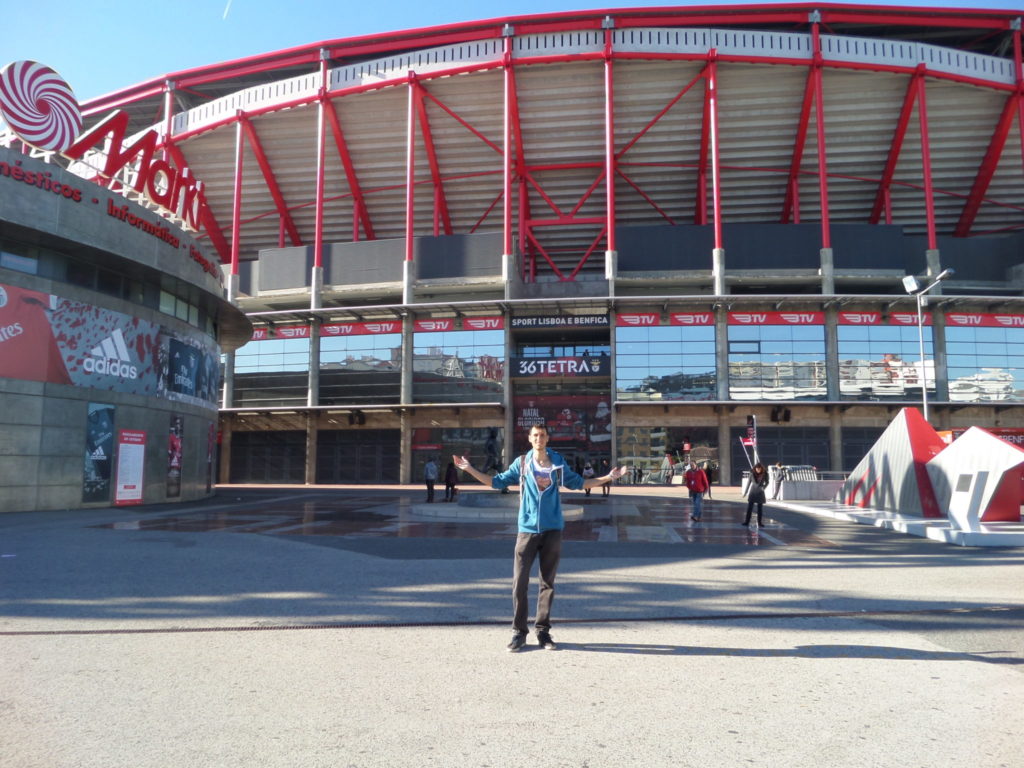 So after visiting the two football stadiums of famous Benfica and Sporting Lisbon, I take a suburban train Cascais to get to the beach and enjoy the sunshine. I walk around the town, which looks like a typical seaside resort with villas, expensive restaurants, boulevards bordered by palms, and people of African origin selling souvenirs. It must be terrible in summer. But now two days before Christmas it's pretty quiet. I get to the coast and take a walk around to ocean to Estoril. I'm enjoying the sunshine and listen to the waves splashing on the beach. It's 17°C here today and probably almost 30°C in the sun as you can really feel the sun searing your skin. I see some people taking a bath in the water. Ah, it's so tempting. It's really warm, I have to do it, at least to dip my legs!
I take a suburban train back to Lisbon. It's 4 o'clock, not much time to see the other shore and the statue and picturesque view of the famous 25 de Abril bridge. Well, and mainly to catch my plane in the evening 😀 But I just can't leave Lisbon without that. I still have like one and a half hour until the sun is fully down. I take a ferry to Cacilhas, which is just on the other side. I walk a bit along the river and finally get to the river. The sun is about to set but in the last moment I manage to take a couple of photos. I'm happy to have come here. It's another memorable view! This place's really magic. Too bad I don't have more time to enjoy it here. I'm already behind the schedule. I still need to pass by a shop, pick up my backpack, eat something and most importantly catch my plane.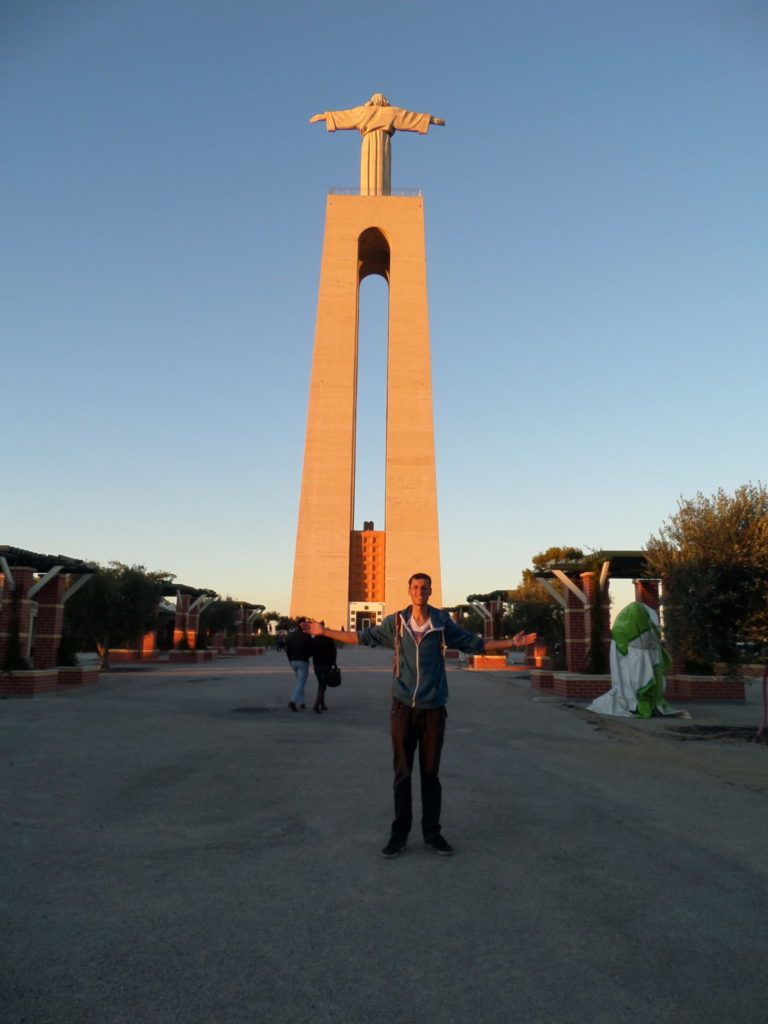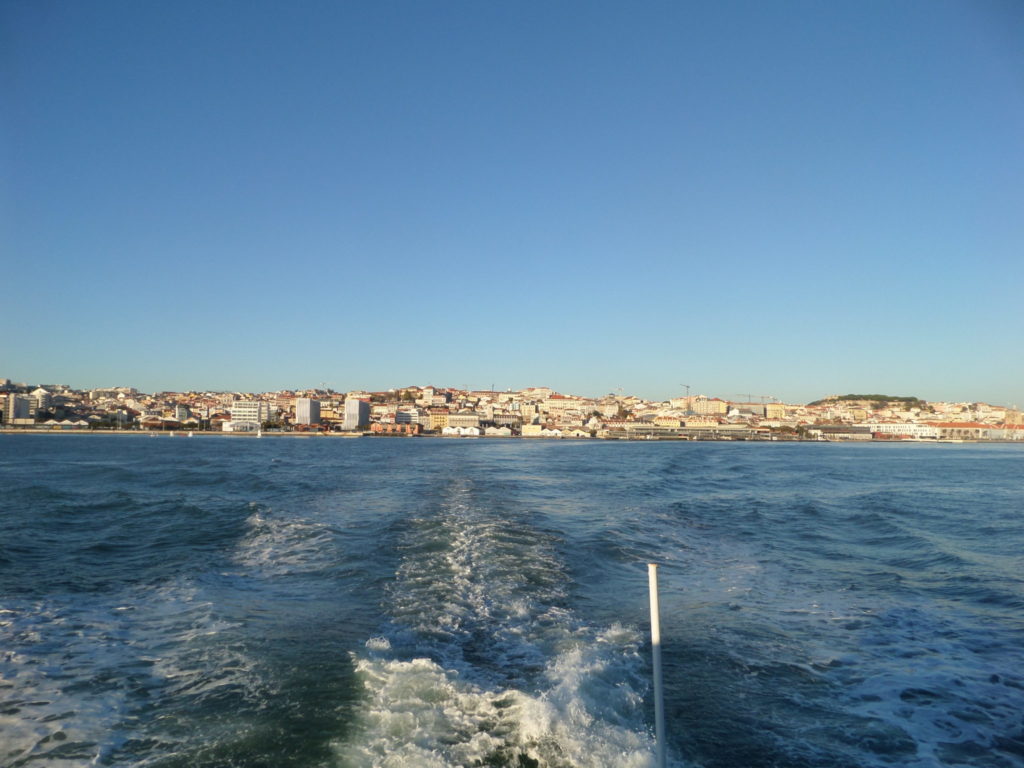 Portugal has a lot to offer. Reputedly, the Portuguese people are friendly and helpful. The weather now in Winter is just perfect for me, the food is pretty good as well. And there is the sea! Or the ocean actually. And many other nice places indeed. Naturally, I could also come up with a couple of reasons why not to come back, but the whole point and most important thing is how I feel about it. And right now I don't feel like coming back. Let's say, rather for my own reasons. So to tell the truth, as much as I love traveling, after the month spent here, I've realized how tiring it is sometimes to have energy for everything, follow my food restrictions, look for special shops and products, cook at hostels, and explain all this to everyone else you meet. Plus, although I always travel on low budget and nowadays it's possible to travel very cheaply, you still do need some money. And I've just run out of it. But who knows, I surely want to visit Portugal again, there are still many places I would love to see. So maybe next winter again? 🙂